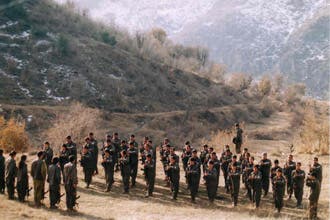 Iran troops cross into Iraq's northern territory
Fighting Kurdish rebels in Iraq's northern mountains
Iranian troops were operating three kilometers (two miles) inside Iraqi territory on Tuesday amid clashes with Kurdish rebels in the Qandil Mountains near the border, a security official said.

The Iranian force crossed the border late on Monday after a series of clashes in recent days with rebels of Party of Free Life of Kurdistan (PJAK), the Iraqi official added, requesting anonymity.
In recent weeks, Iran has repeatedly shelled suspected PJAK rear-bases in the border area. It has also carried out helicopter assaults across the frontier.

Last month, Iranian troops clashed with Iraqi border guards after mistaking them for rebel fighters. An Iraqi guard officer was captured but later released.

The PJAK is closely allied with the Kurdistan Workers' Party, or PKK, which has been fighting for self-rule in eastern Turkey since 1984 and is blacklisted as a terrorist group by the European Union and the United States.

The PKK also operates rear-bases in the Qandil Mountains and Turkey too has carried out cross-border military.