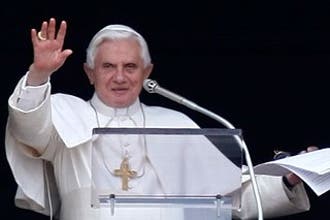 Vatican calls Israel occupation 'injustice'
Deplores lack of access to holy places
A Vatican document leaked Tuesday calls the Israeli occupation of Palestinian territories a "political injustice," Italy's ANSA news agency reported.

The occupation is a "political injustice imposed on the Palestinians," the Vatican says, according to extracts quoted by ANSA.
"The Israeli occupation of the Palestinian territories makes daily life difficult for freedom of movement, the economy and social and religious life," the text says.

The Instrumentum Laboris, a working document on an upcoming synod of bishops on the Middle East, was embargoed for release until Sunday, when Pope Benedict XVI was to present it during a visit to Cyprus.

ANSA's report came as Israel drew worldwide condemnation for a deadly commando raid on Monday against a flotilla of boats laden with humanitarian aid for occupied Gaza, which has been under an Israeli blockade since 2007.

Vatican spokesman Ciro Benedettini declined to comment on the report when contacted by AFP.

The Vatican document deplores lack of "access to holy places, dependent on military permits accorded to some (and) refused to others for security reasons," ANSA said.

It adds: "Some fundamentalist Christian groups cite the Holy Scriptures to defend the political injustice imposed on the Palestinians, making even more delicate the position of Arab Christians," the 40-page document says.

The paper was compiled over several months, focusing on the situation of Christians living in the Middle East with the Palestinian issue as a backdrop, ANSA said.

The synod is set for October 10-24 at the Vatican.

Benedict, who will visit Cyprus from Friday to Sunday, will hand over the document to a 12-member pre-synod council during an open-air mass in the Cypriot capital.
The Israeli occupation of the Palestinian territories makes daily life difficult for freedom of movement, the economy and social and religious life

The Vatican