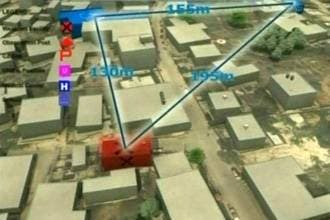 Israel reveals intelligence on Hezbollah sites
Group increasing military activities: official
The Israeli military released Wednesday maps and photographs reportedly illustrating Hezbollah's military activities in south Lebanon and warned of an imminent attack by the guerrilla group.

The Israeli army revealed previously classified maps and aerial photographs allegedly highlighting Hezbollah's network of weapons warehouses and command centers near the border with Israel.
The pictures and 3-D simulations, shown by Col. Ronen Marley in a press briefing, showed individual buildings identified by the military as rocket depots, some of which are shown to be located next to schools and hospitals.

"Hezbollah is establishing itself with increasing strength in the villages," Marley told journalists. "Every day they are collecting significant intelligence on our forces along the border and every day they are engaged in digging, building and laying communications infrastructure to prepare themselves for war."

The unraveling of such detailed intelligence material, a very uncommon practice by Israel, raised speculations as to whether the Jewish state is alerting its people to the increased danger posed by Hezbollah on its border and preparing public opinion for possible strikes inside Lebanon.
Hezbollah is establishing itself with increasing strength in the villages

IDF Colonel Ronen Marley
Human shields
Israeli army spokeswoman Lt. Col. Avital Leibovich said the information showed that Hezbollah is increasing its military activities in densely populated areas and specified that more than 100 villages have become the resistance group's training camps.

"We see that civilians in these villages will be Hezbollah's human shields if there is a war in the future," she said.

Leibovich's statements echo previous Israeli allegations that the civilian death toll was high in the 2006 war because of Hezbollah's military tactics and its insistence on operating in residential areas.

According to Israeli reports, Hezbollah's arsenal is expanding and has now reached more than 40,000 short and medium range rockets, mostly stored in towns and villages south of the Litani River including in private houses.

The range of the missiles possessed by Hezbollah, Israeli defense officials argue, makes it possible for them to reach the main population areas inside and around Tel Aviv.

According to Marley, these weapons are operated by around 20,000 militants, one third of whom received military training in Iran. The fighters, Marley added, are distributed amongst Shiite Muslim villages in south Lebanon in order to intercept enemy troops in case of an invasion.

From Beirut, a Hezbollah official said he would not comment on the documents revealed by the Israeli military before seeing them.
We see that civilians in these villages will be Hezbollah's human shields if there is a war in the future

IDF spokeswoman Avital Leibovich