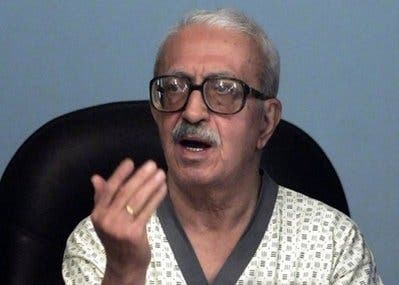 Iraq tries Aziz for "wasting public funds"
Former deputy PM not able to see his lawyer
The lawyer of Iraq's jailed former deputy prime minister Tareq Aziz said on Sunday his client has gone on trial on new charges related to "wasting public funds."

"I have been contacted by the Iraqi justice ministry, which informed me that Aziz and around 15 other people were taken to court yesterday (Saturday) to face trial on new charges related to wasting public funds," Amman-based Badie Aref told AFP.

"I don't know what they are talking about. They told me I can't go now to Iraq to visit Aziz and they will get in touch with me later."
Aref said on Saturday he had secured Baghdad's permission to visit his client in prison and was scheduled to leave for Iraq on Monday.

He added he had requested permission for the visit from the office of Iraqi Prime Minister Nouri al-Maliki, as well as guarantees of safe passage.

Aziz was among 26 convicts, several of them prominent members of Saddam Hussein's ousted regime, who were moved to the Iraqi-run Kadhimiyah jail in north Baghdad ahead of Washington's handover on Thursday of its Camp Cropper detention facility at the airport.

"The Americans handed Aziz over to his enemies, and they will come up with all sorts of accusations and charge him with anything, which might lead to his execution," Aref said.

"The international community should understand what's happening to Aziz."

Aziz, 73, turned himself in to U.S. forces in April 2003 and is one of Saddam's few surviving top cohorts.

He was appointed deputy premier in 1991, having previously served as foreign minister. In 2009, he was jailed for 15 years for murder and given a seven-year term in August 2009 for his role in expelling Kurds from Iraq's north.

Aziz's family has repeatedly called for his release on health grounds.