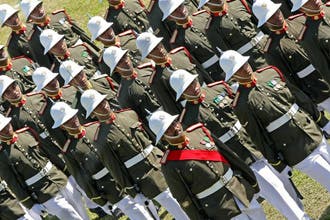 Tonga sends troops to Afghanistan for jobs
Tiny kingdom to guard British troops in Afghanistan
The tiny Pacific archipelago Kingdom of Tonga plans to send 275 soldiers to Afghanistan to help guard a British garrison as part of its plan to reduce unemployment.

An initial contingent of 55 marines will be deployed in November, the first of four six-month rotations of 55 troops who will help guard Camp Bastion in Helmand Province, Tongan Prime Minister Feleti Sevele said Wednesday. Britain will command the troops and pay for the deployment, Sevele said.
He said the deployment would help to ease unemployment in his nation of 104,000 people, and foster closer ties between Tonga and Britain.

Tonga's Parliament approved the deployment 22-0 on Wednesday.

"This is an invitation from the British Army who saw our soldiers work in Iraq and then-Prime Minister Gordon Brown wrote to our prime minister and asked for support," Brigadier Tauaika 'Uta'atu told the Matangi Tonga news website. "This is something we think is an honor to be a part of."

'Uta'atu said the British government would pay $4 million to cover Tongan costs the first year, including uniforms, ammunition, accommodation, travel expenses and a daily stipend for each soldier in Afghanistan. The soldiers will receive six weeks training in Britain before deployment, likely starting in late September or October.

Tongan officers chose the location for the deployment from among four sites during a visit to Afghanistan in May, the brigadier said.

"It looks safer than Iraq," he said. "Our soldiers will not be doing street patrols where there have been a lot of deaths. We will be doing force protection, and security on the boundaries of a camp, which is in the desert."

Camp Bastion holds a British garrison of about 12,000 troops.
We will be doing force protection, and security on the boundaries of a camp, which is in the desert

Brigadier Tauaika Utatu