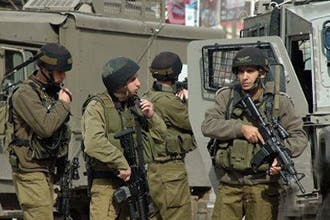 Israeli soldiers kill Hamas commander in W. Bank
Israel says man was shot in "routine arrest raid"
Israeli soldiers shot dead a local commander of the armed wing of the Islamist movement Hamas in the West Bank on Friday, Israeli military and Palestinian security sources said.

Iyad Shilbaya, 38, a commander of the Ezzedine al-Qassam Brigades, was killed during a raid on the Nur Shams refugee camp in the northern West Bank, the sources said.
Relatives said there was a pool of blood on his bedroom floor after the shooting.

Soldiers knocked on his door then went inside, and Shilbayeh was heard saying "Who is there?" before three shots were heard, his brother Mohammed told Reuters.

An Israeli spokeswoman said Shilbayeh was shot "during a routine arrest raid" in a Palestinian refugee camp near Tulkarm, a northern West Bank town known for its militant activity. He had previously been jailed by Israel, she said.

She said the soldiers had opened fire after Shilbayeh came towards them despite being told to halt.

Israeli forces have been searching for suspects in the Aug. 31 killing of four Israelis on a highway near the West Bank town of Hebron, and Palestinian security sources had said a Hamas member in the Tulkarm area was a key suspect.

Israel has responded to an upsurge in rocket fire from the Hamas-ruled Gaza Strip in the past two weeks with a series of air strikes and tank fire, in which three Palestinian militants have been killed.