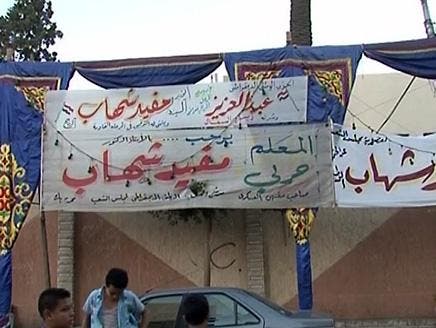 Egypt Christians reject quota parliament seats
Say mechanism implies internal division
Several Coptic political figures in Egypt expressed their reservations over taking seats in parliament through the quota system, citing the internal division this mechanism implies while pointing out the dramatic drop in the number of Christian MPs since 1952.

As Egypt's parliamentary elections, due to be held on November 28, draws near, speculations become rife about the efficiency of the quota system in granting more political rights to groups seen as marginalized like women and religious minorities.
Although the quota system is already applied to women and praised for its role in fighting a mainly patriarchal political system, several prominent Coptic politicians see their acceptance of this strategy to acquire parliamentary seats an acknowledgment that the Egyptian society is divided into Muslims and Christians.
Proportional representation lists
Dr. Nadia Makram Obeid, Coptic parliamentary candidate for the al-Wafd opposition party, said that Coptic representation in the Egyptian parliament was remarkably higher before 1952, the year which the revolution that turned Egypt from a monarchy into a republic took place.

"Thanks to al-Wafd party, Coptic parliamentary representation was very high," she told Al Arabiya program Studio Cairo Friday. "It was a party for the Egyptian society with all its religions and echelons."

The dismantling of the Wafd party after the 1952 revolution and the absence of political activism at this time, Obeid added, played a major role in reducing the number of Coptic MPs.

"The best solution is for each political party to follow the system of proportional representation electoral lists to ensure the diversity of the candidates it's fielding."

Proportional representation lists, an internal policy within a party, allows the party to achieve equality in the list of its candidates before it the election process starts.

According to Obeid, if each party follows this system, all politically-marginalized will be given a chance to participate.
The best solution is for each political party to follow the system of proportional representation electoral lists to ensure the diversity of the candidates it's fielding

Al-Wafd candidate Dr. Nadia Makram Obeid
Coptic responsibility
Albert Ishak, candidate of the ruling National Democratic Party in the Cairo constituency of Shubra, blames Copts for low representation in the parliament.

"Copts do not make an effort to take part in political life as they are focusing more on social activities and community service," he told Al Arabiya.

Like Obeid, Ishak believes that solution comes from within each party.

"Egyptian parties should encourage young Copts to join and take part in the elections and should also promote the principles of equal citizenship instead of dividing people into Muslims and Copts."

The past few decades have witnessed a remarkable drop in the percentage of Coptic representation in the Egyptian parliament. While Copts made up 10% of Egyptian MPs in 1942, they do not currently exceed 1.5%.

Many of the Coptic members of parliament are directly appointed by the president whether in the Consultative Assembly (upper house of parliament) or the People's Assembly (lower house of parliament) in order to make up for the decreasing number of Christian MPs.

Copts, estimated at 10% of Egypt's 80 million-strong population, have always been repeatedly stated that they are underrepresented in both houses of parliament.

Egypt's Union for Human Rights Organization (EUHRO) issued mid-November a statement calling upon the government to apply the quota system to Copts and contended that the percentage of Coptic representation is less than official figures.

"Christian representatives have accounted for less than 0.5 percent of parliament," the statement said.

(Translated from the Arabic by Sonia Farid)
Copts do not make an effort to take part in political life as they are focusing more on social activities and community service

NDP candidate Albert Ishak