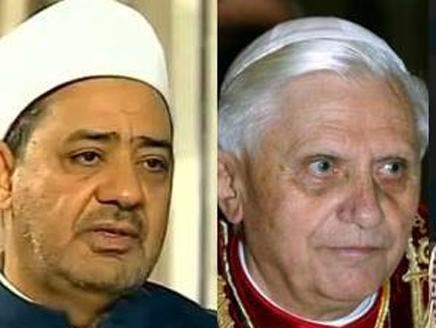 Egypt's al-Azhar says to freeze dialogue with Vatican
Following Pope Benedict XVI remarks on Islam
Sunni Islam's highest seat of learning, al-Azhar, said on Thursday it will freeze its meetings with the Vatican following remarks by Pope Benedict XVI that insulted Islam, as the Vatican said it wanted to continue its contacts with al-Azhar.

The decision came after an extraordinary meeting of al-Azhar's Islamic Research Council chaired by al-Azhar's Grand Imam Sheikh Ahmed al-Tayyeb, the statement said.

Al-Azhar's "Islamic Research Council reviewed in an emergency meeting on Thursday the repeatedly insulting remarks issued by the Vatican Pope towards Islam and his statement that Muslims are discriminating against others who live with them in the Middle East," Cairo-based al-Azhar said in a statement.
"The council decided to freeze dialogue between al-Azhar and the Vatican for an indefinite period," it added.

The Vatican, meanwhile, said it wanted to continue talks with Egypt's al-Azhar following its earlier decision to suspend diplomatic ties.

"The pontifical council for inter-religious dialogue's line of openness and desire to dialogue is unchanged," said Vatican spokesman Federico Lombardi.

Lombardi added that the council was "in the process of gathering together the necessary information in order to understand the situation well."

Benedict this month condemned attacks on churches that killed dozens of people in Egypt, Iraq and Nigeria, saying they showed the need to adopt effective measures to protect religious minorities.

Al-Azhar and the Vatican hold bi-annual meetings to discuss mutual cooperation.

His remarks followed a New Year bombing outside a church in the Egyptian city of Alexandria that left 23 people dead and dozens injured and prompted demonstrations by both Christians and Muslims against sectarian violence.
The council decided to freeze dialogue between al-Azhar and the Vatican for an indefinite period

Al-Azhar statement
Protecting Arab world Christians
The pope had called for the protection of the Arab world's Christians and urged Christian communities to persevere in a non-violent manner in the face of what he described as "a strategy of violence that has Christians as a target."

He said the Alexandria attack was "yet another sign of the urgent need for the governments of the region to adopt ... effective measures for the protection of religious minorities."

Egypt's government last week dismissed the pope's remarks as "unacceptable interference" and summoned its Vatican ambassador back to Cairo for consultation.

In response to al-Azhar's decision, Pope Rafeeq Greish, head of the press bureau of Egypt's Catholic Church, told AlArabiya.net that the church is very sorry about such sudden decision.

"We have explained more than once that Pope Benedict XVI has never said any statements that contained an attack on Islam of any kind. He never said that the Middle East Christians are exposed to any kind of abuse," he said.

Vatican spokesman Father Federico Lombardi said on Thursday that al-Azhar's move would not change the Vatican's "policy of openness and desire for dialogue" with Islam.

Christians, mostly Orthodox Copts, account for about 10 percent of Egypt's 79 million population which is mostly Sunni Muslim. Sectarian violence sometimes erupts over disputes on issues related to church building, religious conversions and interfaith relationships.

On Wednesday, Arab leaders gathered for an economic summit in Sharm al-Sheikh voiced their "total rejection" of foreign interference in Arab affairs over the region's Christian minorities.
We have explained more than once that Pope Benedict XVI has never said any statements that contained an attack on Islam of any kind. He never said that the Middle East Christians are exposed to any kind of abuse

Pope Rafeeq Greish, Egypt\\\\\\\'s Catholic Church