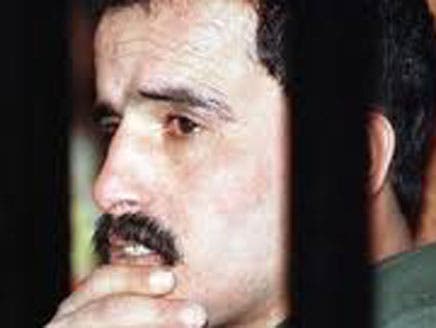 Israel school girls' killer a 'hero': Jordan minster
Justice minister joins sit-in to demand Dakamseh's release
Jordan's justice minister on Monday described a Jordanian soldier serving a life sentence for killing Israeli schoolgirls in 1997 as a "hero," joining a sit-in to demand his release.

"I support the demonstrators' demand to free Ahmad Dakamseh. He's a hero. He does not deserve prison," Hussein Mujalli, who was named minister last week, told AFP, after taking part in the sit-in held by the trade unions.

"If a Jewish person killed Arabs, his country would have built a statue for him instead of imprisonment."

Mujalli, a former president of the Jordan Bar Association, was Dakamseh's lawyer.

"It is still my case and I will still defend him. It is a top priority for me," he said.

"Dakamseh needs a special pardon. Only the king can issue a special pardon," the state-run Petra news agency quoted Mujalli as saying.

In March 1997, Dakamseh fired an automatic weapon at a group of Israeli schoolgirls as they visited Baqura, a scenic peninsula on the Jordan River near the Israeli border, killing seven and wounding five as well as a teacher.

The attack came almost three years after Jordan and Israel signed a peace treaty, only the second between an Arab country and the Jewish state.

The motives of Dakamseh, who was 30 at the time and a married father of three, were never clear. Then king Hussein cut short a visit to Europe and rushed home to condemn the attack. He later travelled to Israel to offer his condolences to the families of the slain schoolgirls.

Jordan also paid compensation.

Maisara Malas, who heads a trade unions' committee to support and defend the soldier, told AFP he handed a letter to Mujalli, demanding Dakamseh's release.

"We cannot imagine that a great fighter like Dakamseh is in jail instead of reaping the rewards of his achievement," the letter said.

Jordan's powerful Islamist movement and the country's 14 trade unions, which have more than 200,000 members, have repeatedly called for Dakamseh's release.