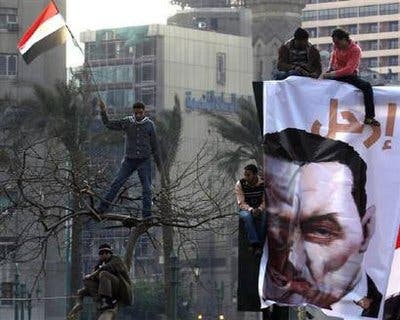 Egypt Islamists' impact on Israel peace unclear: US
Brotherhood says "won't seek" parliament majority
Egypt's Muslim Brotherhood probably does not favor its country's peace treaty with Israel, but its views are not uniform and it will be only one voice in Egypt's emerging political lineup, the top U.S. intelligence official told a Senate hearing on Wednesday

"I would assess that they are not in favor of the treaty," Director of National Intelligence James Clapper told the Senate Select Intelligence Committee, adding that the U.S. intelligence community knows very little about the Muslim Brotherhood's views on the Israel peace treaty and Palestinian weapon smuggling into Gaza from Egypt.

The Muslim Brotherhood is "only one voice in the emerging political milieu" of Egypt following last week's ouster of President Hosni Mubarak, said Clapper.

"The Muslim Brotherhood is a large, heterogeneous global organization whose agenda and impact differ from country to country," he told the committee.

"It also has different factions, including a conservative wing whose interpretation of Islam runs counter to broad electoral participation and a younger, more liberal wing who is more inclined to work through a secular political process," said Clapper.

Central Intelligence Agency Director Leon Panetta told the hearing the agency was closely watching the Muslim Brotherhood as the political situation in Egypt takes shape.

"It is clear that within the Muslim brotherhood there are extremist elements that we have to pay attention to and that's something we watch very closely to make sure that they are not able to exert their influence on the directions of governments in that region," said Panetta.
The Muslim Brotherhood is a large, heterogeneous global organization whose agenda and impact differ from country to country

Director of National Intelligence James Clapper
Reshaping US strategy
The Obama administration was scrambling to reshape its strategy for Egypt and the broader Middle East as anti-government protests inspired by popular revolts that toppled rulers in Tunisia and Egypt gained pace against other autocratic rulers around the region.

Clashes were reported for the first time in tightly controlled Libya, sandwiched between Egypt and Tunisia, while new protests erupted in Bahrain, Yemen and Iran on Wednesday.

Washington has walked a cautious line, expressing support for protesters' democratic aspirations while trying to avoid unnerving key regional allies like Saudi Arabia and Israel.

U.S. Defense Secretary Robert Gates sought to keep the spreading Middle East unrest in perspective, insisting it was a matter for diplomacy, not for U.S. military involvement.

"Those are problems that are emanating from within those countries and it's primarily a diplomatic challenge for us," he told the Senators.
"Won't seek majority"
However senior leaders of Egypt's Muslim Brotherhood said on Wednesday that the influential Islamist movement would not seek a majority in parliament when elections are held later this year.

The opposition group, which says it wants to build an Islamic state through peaceful means, was seen as the government's most powerful foe until the popular revolt forced Mubarak to resign on February 11.

"We do not aspire for a majority in the upcoming parliament, and this is a message to all political parties," said Essam al-Erian, a member of the group's politburo. "This is not the time for competition."

Mahmoud Ezzat, the group's second in command, said the group would not contest every parliamentary seat in an election set to take place later this year before the military hands power to a civilian government.

"We will not try," he said, when asked if the group would run candidates for each and every seat. The Brotherhood had previously also said it would not field a candidate in the subsequent presidential election.

The Islamists have contested about 30 percent of parliamentary seats in past elections, which were rigged to favor the ruling National Democratic Party.

They won a fifth of seats in the 2005 election but boycotted run-offs in the poll in November last year after failing to win a single seat in the first round. Rights groups widely denounced the election as fraudulent.

Some in the West had feared that the revolt that brought down Mubarak, despite being spearheaded by secular youths, would empower the Islamists, who are critical of U.S. policies in the region.

But Ezzat insists that the Islamists are not seeking power.

"People can't imagine that maybe someone would trade power for the general interest. We used to get jailed and were denied seeing our children, only for the general interest. We did not do this for power," he said.

The group has a representative -- a lawyer and former lawmaker -- on an eight-member panel appointed by the military, which assumed power after Mubarak's resignation, to revise the constitution ahead of the elections.

The current constitution bans parties based on religion and class, but the Islamists have said they are interested in creating an official political party affiliated with their movement.

We do not aspire for a majority in the upcoming parliament, and this is a message to all political parties

Essam al-Erian