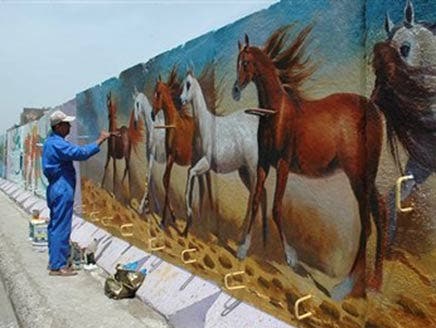 Baghdad demands $1 billion from US in war damages
In addition to money, Baghdad demands an apology
The Baghdad city government is demanding the United States pay $1 billion and apologize for damage to the city caused by blast walls erected during the nearly eight-year long war.

City officials filed a lawsuit in an Iraqi court against the U.S. military, a media official said Thursday. He did not want to be identified due to the sensitivity of the situation.

In an official statement posted late Wednesday on its website, the local government said U.S. forces had marred the "beautiful city."

Blast walls "put up at the pretext of security" damaged the sewage system and sidewalks, caused traffic jams and paralyzed business, the statement read.
City officials want an official apology and $1 billion to pay for the damage.
However, Kamil al-Zaidi, the head of the Baghdad provincial council said Iraqi security forces should also share responsibility for the miles of concrete barriers that crisscross the capital.

"The Iraqi security bodies, not only the Americans, bear part of the responsibility for putting up these walls," he said.

Al-Zaidi added that the concrete barriers have helped saved lives and protect government buildings during the waves of deadly bombings that have struck Iraq over the years.

The tall grey slabs of concrete have become one of the defining images of this nearly eight-year long war. They were put up all over Iraq by American and Iraqi forces to absorb bomb blasts and encircle almost every government building, mosque and military facility.

During the height of the insurgency, whole neighborhoods were walled off as a way to keep militias and insurgents from moving easily into an area to launch an attack and then darting back to their home territory.

Iraqis are both grateful for the protection the concrete barriers provide and annoyed at the eyesore they've become and the way they jam traffic.

Garbage can be seen heaped up along the barriers; Iraqi artists have tried with little success to beautify the walls by painting them.

The city has recently begun removing many of the concrete barriers, sometimes called T-walls because they resemble an inverted "T."

Baghdad municipal officials decided earlier this week to demand compensation after they lifted the walls from a main street in eastern Baghdad and noted extensive damage to the pavement, road and sewage system, the statement read.


The Iraqi security bodies, not only the Americans, bear part of the responsibility for putting up these walls

Kamil al-Zaidi, the head of the Baghdad provincial council