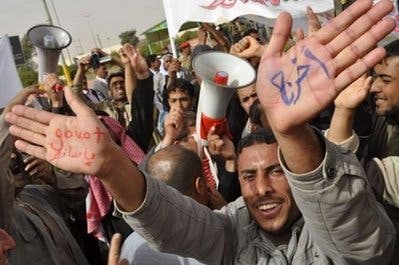 Around $40 billion "missing" from Iraq accounts
Iraq moves to head off protests as teen is killed
Around $40 billion are "missing" from a post-Gulf War fund that Iraq maintains to protect the money from foreign claims, its parliamentary speaker said on Monday as authorities scrambled to head off further protests on cutting politicians' pay and ramping up support for the needy

"There is missing money, we do not know where it has gone," Osama al-Nujaifi said at a news conference in Baghdad. "The money is around $40 billion in total."

"It may have been spent somewhere, but it does not appear in our accounts, so parliament will investigate where this money has gone."

Nujaifi did not say when or how the discovery had been made regarding the missing money. He said two investigative committees had been formed to track down the cash.
The Development Fund for Iraq (DFI), which was set up after the 2003 war to handle oil and other revenues, has been protected against claims by a U.N. resolution that expires on June 30.

On December 15, the U.N. Security Council ended key international sanctions imposed on Iraq following now-executed dictator Saddam Hussein's 1990 invasion of Kuwait in a major move toward bringing closure on the Saddam era.

Among the decisions taken on that day was the closure of the DFI.

Iraq's August 2, 1990 assault on Kuwait was rapidly met with a concerted international military response that pushed Saddam's forces out of the oil-rich emirate and eventually ended in his ouster by a U.S.-led coalition in 2003.
There is missing money, we do not know where it has gone

Osama al-Nujaifi
Nationwide protests
Protests in recent weeks have taken place nationwide, in Iraq's Sunni, Shiite and Kurd areas, railing against corruption, high levels of unemployment and poor provision of basic services such as clean water and electricity.

On Monday, the Iraqi government said it would postpone the implementation of a planned law that would increase import tariffs, a day after MPs cut their salaries and those of ministers and raised funds allocated to a ration card program that provides food or six million families.

"Parliament is working to achieve all the demands of the population," Nujaifi, the speaker said after lawmakers approved the 2011 budget.

"The budget of 2011 is ambitious and has lots of positives for the Iraqi people," he added. "It has projects for housing, agriculture, education and infrastructure."

The latest moves came after 17-year-old Sherko Mohammed was killed when security forces fired into the air amid clashes with demonstrators Sunday evening in the northern Kurdish city of Sulaimaniyah.

A further 48 people were wounded at the rally, said Sulaimaniyah province health chief Raykot Hama Rashid.

Mohammed's death was the third in demonstrations in the city and the fourth nationwide in recent days.

The protesters on Sunday evening had been attempting to move towards the headquarters of the Kurdistan Democratic Party (KDP) and Patriotic Union of Kurdistan (PUK) in Sulaimaniyah.

At the same location on Thursday, two young demonstrators were killed and 54 others wounded when security forces again fired into the air.

But security forces blocked their progress, sparking Sunday's clashes.

The KDP, led by regional president Massud Barzani, and the PUK, led by Iraqi President Jalal Talabani, have lorded over Kurdistan for decades.

Along with the protests in Sulaimaniyah, demonstrations have also been staged in and around the cities of Baghdad, Kut, Nasiriyah, Diwaniyah, Ramadi and Basra, with the Kut rally leaving one person dead and dozens injured.
Parliament is working to achieve all the demands of the population

Nujaifi
No raise in tariffs
In response, Iraq's cabinet announced Monday it would suspend a law that was to be implemented in two weeks that would raise tariffs on imports and thereby increase prices on goods nationwide.

The tariffs law was originally put on the books in December, before uprisings in Tunisia and Egypt sparked protests across the region, and had been due to come into effect on March 6.

Duties were to range from zero to 80 percent of the value of products being imported. Tariffs for rice, sugar and antibiotics were set at five percent, while duties for cars were 15 percent.

Iraqi MPs passed legislation on Sunday evening that cut their salaries and those of ministers by 10 percent, a move that is projected to save nearly $5 million annually.

The cuts, however, fell far short of more dramatic proposals pushed by the government that would have slashed pay by nearly 40 percent.

Lawmakers also approved a 2011 spending program that included nearly $1 billion in additional support for Iraq's ration card program.

And late on Sunday, Iraq's top Shiite Muslim cleric Grand Ayatollah Ali al-Sistani issued a strongly worded statement saying he understood the suffering of protesters and had himself chided the government for poor basic services on multiple previous occasions.

"The religious authority understands the suffering which the Iraqi people are going through, due either to the negligence of the government or its weakness," said a letter distributed by his office in the holy city of Najaf.

"Demonstrations are a guaranteed right for all citizens, but there must be no bloodshed, or attack on properties, public or private."
Demonstrations are a guaranteed right for all citizens, but there must be no bloodshed, or attack on properties, public or private

Grand Ayatollah Ali al-Sistani