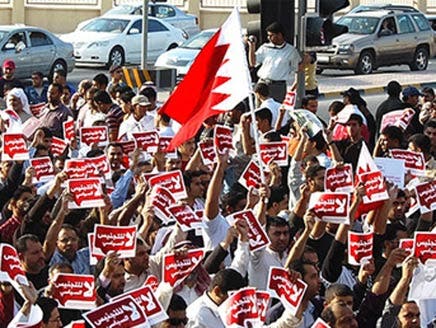 Bahrain reshuffles cabinet after unrest: sources
Reshuffle seen as gesture to opposition
Gulf Arab state Bahrain has reshuffled its cabinet in a further attempt to appease the Shi'ite opposition that has staged days of protests against the Sunni-led government, government sources said on Saturday.

The ministers of housing, health and cabinet affairs were among those sacked, said three government officials who did not wish to be named, adding they had not received official confirmation yet of who was being replaced.

"I called the minister last night and he told me he would be replaced," a government source said, referring to one of the three. A spokesman for the government could not immediately be reached for comment.
Bahrain saw the worst unrest since the 1990s last week when seven people were killed in protests by its majority Shi'ites who have complained of discrimination by the government, which is a close ally of the United States and Saudi Arabia.

Thousands of protesters still occupy Pearl Square in central Manama, demanding the resignation of the cabinet and a new constitution under which the government is elected. Currently, the cabinet is appointed by the king and about two-thirds of ministers are members of the ruling family.

Crown Prince Sheikh Salman bin Hamad al-Khalifa has offered a national dialogue with the opposition, but formal talks have not yet started as the opposition groups such as Wefaq want to see a commitment to an elected government first.

Shi'ites have long complained of discrimination in government services such as housing and health, and analysts in Bahrain say reshuffling these portfolios is another gesture to the Shi'ite opposition after the release of political prisoners.

One government source said Labour Minister Majeed al-Alawi, a former opposition activist, could become housing minister.

Nazar al-Baharna, minister of state for foreign affairs and one of the highest-ranking Shi'ite government officials, could be made minister of health, the source added.

The government denies there is any discrimination against Sh'ites in Bahrain and tens of thousands of government loyalists have also taken to the streets in recent days, saying that reforms launched by the king a decade ago resulted in freedoms and a level of democracy unique in the Gulf. The sources also said that Sheikh Ahmed bin Attiatullah al-Khalifa, minister for cabinet affairs, was likely to be replaced.

Sheikh Ahmed has been a bone of contention to the Shi'ite opposition, which has linked him to an alleged government plan leaked in 2006 to alter the sectarian balance of Bahrain. The government has denied there was such a plan.