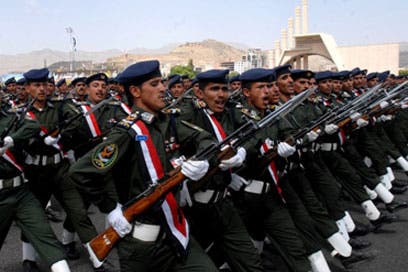 Suspected al-Qaeda gunmen kill four in Yemen: official
4 soldiers from Yemen's elite Republican Guard killed
Suspected al-Qaeda gunmen killed four soldiers from Yemen's elite Republican Guard in an attack east of the capital Sanaa on Sunday, a local official told AFP.

Unidentified gunmen opened fire on the soldiers as they passed in a truck near Marib, about 170 kilometers (110 miles) east of Sanaa, the official said.

"The attack was similar to others by al-Qaeda," he added.
On February 22, five people, including three soldiers, were killed in a gunfight with al-Qaeda militants in Marib, the defense ministry said.

In separate attacks in January, suspected al-Qaeda militants killed 12 soldiers in ambushes on military convoys and an attack on a military checkpoint in the south of the country.

A U.S. State Department official last month described Yemen-based al-Qaeda in the Arabian Peninsula -- a fusion of the Yemeni and Saudi branches of the jihadist network -- as the "most significant" threat to the U.S. homeland.

Washington in December called on Yemen to step up its fight against al-Qaeda, a year after a botched attempt to blow up a U.S. passenger plane.

Al-Qaeda in the Arabian Peninsula has been accused of being behind the attempted 2009 Christmas Day attack, allegedly carried out by a young Nigerian who had reportedly studied in Yemen.

In addition to its struggle against al-Qaeda, Sanaa is also grappling to control mounting protests against President Ali Abdullah Saleh, in power since 1978.

At least 19 people have been killed since the protests began on February 16, according to an AFP toll based on reports and witnesses. Human rights group Amnesty International has put the toll at 27.

The demonstrations come amid a regional wave of unrest that has already forced the presidents of Tunisia and Egypt to quit and thrown Libya into civil war.

On Saturday the Yemeni President Ali Abdullah Saleh said that he would remain in power until his term ends in 2013, rejecting an opposition plan for him to step aside this year.