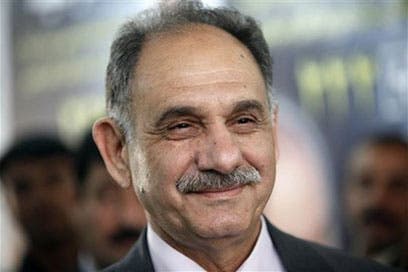 Meet protest demands or go, deputy tells Iraq leader
Top Sunni figure calls protesters' demands "reasonable"
Iraqi Prime Minister Nuri al-Maliki should step down if his government fails to meet his own 100-day target to improve its performance in the wake of Egypt-inspired protests, one of his deputies said.

The remarks, by Deputy Prime Minister Saleh al-Mutlaq, reveal the deep divisions remaining in a fractious coalition government formed in December after nine months of wrangling following an inconclusive election.

Like other countries in the Arab world inspired by the fall of Egyptian leader Hosni Mubarak, Iraq has seen a steadily growing wave of demonstrations this year among a public angry about corruption, a lack of public services and jobs.
Security forces have responded with tear gas, water cannon and gunfire. The prime minister said two weeks ago he would sack ministers if performance did not improve within 100 days, effectively giving them a June deadline.

Mutlaq, a leading figure in the secularist Iraqiya bloc which enjoys support of the Sunni Arab minority, told Reuters demonstrators' demands for better services were "reasonable".

"If Maliki cannot administer his government in these three months in a way to meet the ambitions of people, I believe he himself should resign," he said.

"These protests are not against this current government. They are against the accumulation of financial and administrative corruption and against building the country in an inappropriate way for the last eight years".

Unlike other countries in North Africa and the Middle East where the public has risen up against long-serving autocrats, Iraq saw its own dictator Saddam Hussein toppled by a 2003 U.S. invasion that led to years of insurgency and sectarian war.

Militants still launch dozens of attacks every month but violence has dropped sharply in recent years and state coffers are swelling due to rising oil revenues.

Yet the government has so far failed to restore many basic services. Electricity is on only for a few hours a day.
If Maliki cannot administer his government in these three months in a way to meet the ambitions of people, I believe he himself should resign

Deputy Prime Minister Saleh al-Mutlaq
Hands tied
Mutlaq has been put in charge of restoring services, but said he had not been given powers to achieve the task: "Until this date there is still no authority for the deputy prime minister for services. I can't act properly because of that."

Mutlaq's Iraqiya bloc won 91 seats in the 325-member house in last year's vote, the most of any group but not enough to unseat Maliki, a Shi'ite who took power in 2006.

Washington, due to withdraw its remaining 50,000 troops this year, wants Iraqiya inside the ruling coalition so Sunnis do not feel excluded.

Mutlaq said Iraqiya would quit the government if its views are not heard, and complained that Maliki had so far failed to approve any of its nominees for defense minister, a post which is still vacant but offered to Iraqiya under the coalition deal.

Maliki is due to address parliament on Thursday.

"I am telling you frankly, we are taking part in the government but so far we are not partners. The reason is there are some parties in the government that have an appetite for rule and power more than for building the state," Mutlaq said.

"We will not continue in this government if we are not real partners. We are ready to leave this government at any time."