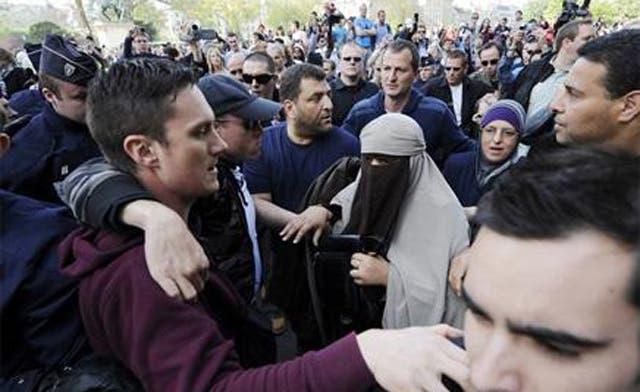 Defying burqa ban in France
PARIS— France's anti-burqa law came into force on Monday, and there were immediate clashes between opponents of the law and security forces. Two Muslim women wearing face veils were arrested outside Notre Dame Cathedral.

Anyone detained wearing the face veil in public places must pay a fine of 150 euros (the equivalent of $215), according to the law, but it remains unclear how robustly this will be enforced. Opponents say the law violates individual and religious freedoms.

The law prohibits police from removing the veil, which leaves just a slit for the eyes.
The penalty for those forcing women to wear the face veil is much heavier than that for women caught wearing it. A person who is found guilty of forcing a woman is subject to $43,000 fine and up to a year in prison.

Defying the ban, Kenza Dride, a Muslim woman who wears the face veil, took the train on Monday from Avignon to Paris.

She told Al Arabiya she did not "provoke" anyone and that she was only defending her "freedom of movement" and her "religious freedom."

But Alexis Marsan, a public order official, said the women were not arrested for wearing the niqab but rather for disturbing the peace in a protest.

Mr. Marsan added that the police would adopt an "educational" approach towards veiled women in the beginning to try to convince them. But if they refuse to observe the law and not remove the burqa, "things will start to get complicated," he said.

"We do not have the enforcement authority. The instruction that came from the interior ministry is that we must not use force," he added.

The law went into effect a week after a "national debate" on Islam and secularism was concluded in France. The debate was led by President Nicolas Sarkozy's party, the right-leaning UMP (Union pour un Mouvement Populaire). However, some of its members, including Prime Minister Francois Fillon, boycotted the debate.

There are currently fewer than 2,000 women wearing the face veil among an about five million Muslims in France, according to official estimation.

(Translated by Mustapha Ajbaili)