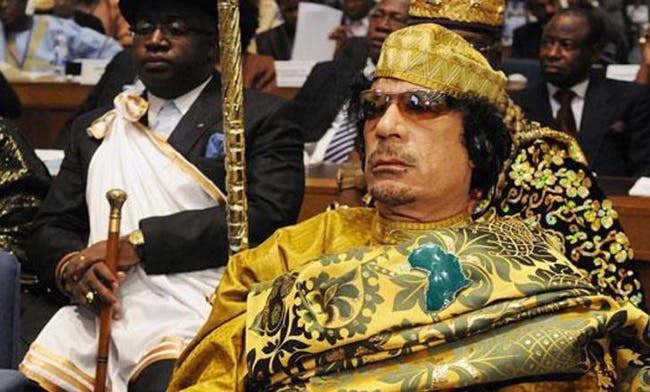 Who will accept Qaddafi?
The Barack Obama administration has launched an intense search for a country that could provide refuge to Libyan strongman Colonel Muammar Qaddafi, The New York Times reported on Sunday.

The Obama administration is looking to find a country that may want to offer shelter to Mr. Qaddafi in Africa. The United States and its allies are going ahead with the search even though Colonel Qaddafi has declared that he has no intention of leaving his country. Some observers have speculated that perhaps a deal for a graceful exit by Mr. Qadaffi may be in the works.
The effort to relocate Mr. Qaddafi from his native Libya, however, will be complicated since he may be indicted by the International Criminal Court in the Hague for the atrocities committed against his own people and for the 1988 bombing of Pan Am flight 103 over Scotland.

US officials only have a narrow list of potential host countries. Three officials in the Obama administration told The Times they were considering finding a country that has not signed or ratified the Rome Statute, which requires countries to turn over anyone being indicted for trial by the ICC. The United States is also not a signatory due to concerns that its military officers and intelligence officers could be prosecuted.

Close to half of the 53 countries of Africa have not signed or ratified the Rome Statute so Mr. Qaddafi could be offered haven by any of them. Although Colonel Qaddafi had close dealings with leaders from Chad, Malawi and Zimbabwe, it is unclear which if any will emerge as a candidate.

"We learned some lessons from Iraq, and one of the biggest is that Libyans have to be responsible for regime change, not us," a senior Obama administration official told the newspaper. "What we're simply trying to do is find some peaceful way to organize an exit, if the opportunity arises."

The report came after weeks of bombings by NATO allies; pressure on both the military and Qaddafi aides have failed to oust the man who has ruled Libya with an iron fist for 32 years.

The US supported Britain and France in the nearly month-old operation against Colonel Qaddafi. The campaign was launched out of alarm that Mr. Qaddafi would carry out wide-scale killings of civilians and fighters who rose up against him.

But the US has resisted pressure from the French to supply more planes, saying it will play a limited role amid a heavy US commitment in Afghanistan and residual military role in Iraq.

The US and other nations have voiced fears for the safety of civilians in Libya—particularly in the country's third city of Misrata, which the government has declared a "danger zone."

A senior US military official told The Times that NATO countries, which are dealing with an unprecedented level of complexity in their joint air campaign, were using different degrees of caution when striking targets that could cause harm to civilians or damage nearby mosques, schools and hospitals.

Some NATO pilots have refused to drop bombs on the targets due to related concerns, though planners for the allied air campaign cannot foresee which pilots will be matched to given targets, according to the official.

"Without a doubt, it is frustrating working through all this to get maximum effect for our efforts and dealing with all these variants," the official added.

Meanwhile, Libya's rebels and NATO forces have established a joint operations room, said the spokesman of the National Transitional Council, Abdul Hafiz Ghoga. Agence-France Presse reported this Saturday evening.

"There is a joint operations room," Mr. Ghoga told a news conference in Benghazi. He was replying to a question on coordination between NATO and the council's forces that are fighting the troops of Libyan leader Muammar Qaddafi. He declined to give more details.
Libyan rebels are engaged in a fierce battle in the strategic oil town of Brega, and are hopeful of capturing the oil port soon, their military spokesman told Al Arabiya television late on Friday.

"Our situation is very good, thank God. Today we began advancing toward Brega, and there is now a big and fierce battle in Brega, and we have high hopes that Brega will be ours in the coming few hours," a rebel spokesman, General Abdel Fattah Younes, said to Al Arabiya.

"We are in a not-too-bad state of preparedness and our army fighters, youths and rebels are now doing a good job—and in the morning there will be good news," General Younes added.

Karen DeYoung and Greg Jaffe of The Washington Post reported that, less than a month into the Libyan conflict, NATO is running short of precision bombs, highlighting the limitations of Britain, France and other European countries in sustaining even a relatively small military action over an extended period of time, according to senior NATO and U.S. officials.

"The shortage of European munitions, along with the limited number of aircraft available, has raised doubts among some officials about whether the United States can continue to avoid returning to the air campaign if Libyan leader Muammar Gaddafi hangs on to power for several more months," they wrote.

Separately, it was impossible to independently verify the claim about insurgent gains on the fluid eastern front of Libya's civil war.

But General Younes said the fighters had received supplies of what they needed in terms of weapons from nations supporting the uprising against the Libyan leader, Muammar Qaddafi.

Meanwhile, Colonel Qaddafi's regime denied it was using cluster bombs in clashes with fighters in residential areas following reports published in The New York Times, and by human-rights activists.

"Absolutely not! We can't do this. Morally and legally we can't do this," a government spokesperson, Moussa Ibrahim told journalists when questioned on the issue. "We have never done it. We challenge them to prove it."

Journalists and human rights groups said on Friday that Mr. Qaddafi's forces were using the banned bombs in the besieged city of Misrata, as medics there reported that at least eight were people killed while waiting in a queue for bread.

"Last night it was like rain," said Hazam Abu Zaid, a local resident who has taken up arms to defend his neighborhood, describing the cluster bombings.

However, Mr. Ibrahim countered this by saying, "If we use this bomb, the evidence will remain for weeks and we know that the international community is coming to our country soon."

"So we can't do this. We can't incriminate ourselves as criminals" he said.

The New York-based group, Human Rights Watch, said it believed the weapons were being used. Investigators affiliated with the group examined evidence such as remnants of bomblets. They also spoke to Misrata ambulance drivers who had seen them being used in attacks.

"Human Rights Watch observed at least three cluster munitions explode over the El-Shawahda neighborhood in Misrata on the night of April 14, 2011," the group said in a statement.

The New York Times first reported the use of the banned munitions. A reporting team for the newspaper photographed MAT-120 mortar rounds that explode in the air and scatter deadly, armor piercing sub-munitions below.

"It's appalling that Libya is using this weapon, especially in a residential area," said Steve Goose, arms division director at Human Rights Watch.

Mr. Ibrahim branded these reports as "surreal."

"We invite these people to come and witness things from the other side," he said. "They only choose the rebel side or listen to phone calls that come to their offices in European capitals."

"We are asking Human Rights Watch, which is a very active organization, to please come visit us. Come to Tripoli. We will take you to all cities, to Misrata. So they can see for themselves that we haven't done it," Mr. Ibrahim said.

Cluster bombs have been banned under international law since August 2010 because of the indiscriminate civilian deaths they can cause.

(Umita Raghu Venkataraman of AL Arabiya can be reached at: Umita.venkataraman@mbc.net. Sara Ghasemilee, also of Al Arabiya, can be reached at: Sara.Ghasemilee@mbc.net)