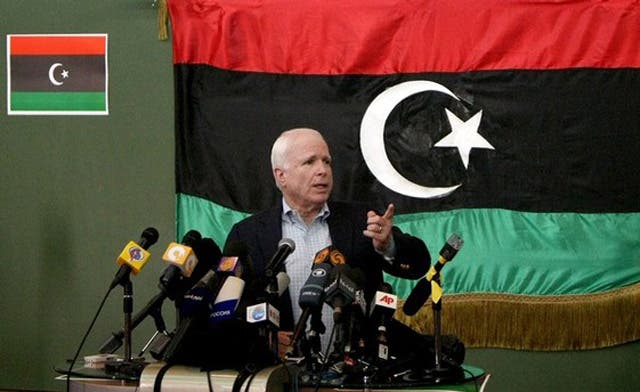 McCain in Libya, no mission creep
The United States has started using armed drones against Colonel Muammar Qaddafi's troops, who battled rebels at close quarters on the streets of Misrata, despite Western threats to step up a month-old air war. Meanwhile, American VIPs such as Senator John McCain, Republican of Arizona, are starting to visit Benghazi, considered a rebel stronghold.

Defense Secretary Robert Gates of the United States said the decision to use unmanned drones armed with missiles was made "because of the humanitarian situation" in Libya, calling them a "modest contribution" to international coalition efforts there, according to Agence-France Presse.
The US military uses armed drones in Pakistan against Taliban fighters and members of Al Qaeda.

General James Cartwright, vice chairman of the US Joint Chiefs of Staff, said the unmanned aircraft will be useful because of "their ability to get down lower, therefore to be able to get better visibility on (targets), particularly targets now that have started to dig themselves into defensive positions."

General Cartwright said the drones "are uniquely suited" for the mission in Libya for use on a 24-hour basis in urban areas, and to limit collateral damage, AFP reported.

Secretary Gates said: "They give you a capability that even the A10 (anti-tank aircraft) and AC130 (ground attack aircraft) couldn't provide" in the conflict in the North African nation.

Mr. Gates said that the deployment represents "a very limited additional role on our part," in Libya but argued that it did not mean "mission creep" for the United States.

Senator McCain visited Benghazi on Friday. He said he found the rebels "inspiring."

Mr. McCain, who lost to Democrat Barack Obama in the US presidential election of 2008, was the first major American official to visit Benghazi. An Air Force pilot, he served during the Vietnam War, and was held prisoner by the North Vietnamese for several years after his fighter jet was shot down. He was later decorated by the US government for his bravery in combat.

On Friday, he called the Libyan rebels "heroes."

Protesters, meanwhile, welcomed the deployment of US unmanned aircraft and said they hoped the move would protect civilians.

Doctors at the hospital in Misrata, the protesters' last major bastion in the West of the country, said nine insurgents were killed in fighting on Thursday, Reuters reported.

US Secretary of State Hillary Clinton said Colonel Qaddafi's forces were carrying out "vicious attacks" on Misrata and might have used cluster bombs against civilians.

Hundreds of people are believed to have died in Misrata, which is about 215 kilometers (130 miles) east of Tripoli, during its siege. At the hospital, ambulances raced in carrying wounded fighters. Doctors said that four of the nine rebels killed died in a fierce battle around the Tripoli Street thoroughfare.

Misrata is the third largest city in Libya with an estimated population of 550,000 out of Libya's total 5.5 million.

Food and medical supplies were running out, and there were long queues for petrol. Electricity was cut so residents depended on generators. Thousands of stranded foreign migrant workers awaited rescue in the port area.

France said it would send up to 10 military advisers to Libya and Britain plans to dispatch up to a dozen officers to help protesters improve organization and communications. Italy is considering sending a small military training team.

Tripoli denounced such moves and some commentators warned of "mission creep," after assurances by Western leaders that they would not put "boots on the ground" in Libya.

Russia, however, the sending of advisers exceeded the United Nations Security Council mandate to protect civilians.

(Mustapha Ajbaili of Al Arabiya can be reached at: Mustapha.ajbaili@mbc.net. Abeer Tayel, also of Al Arabiya, can be reached via email at: abeer.tayel@mbc.net)