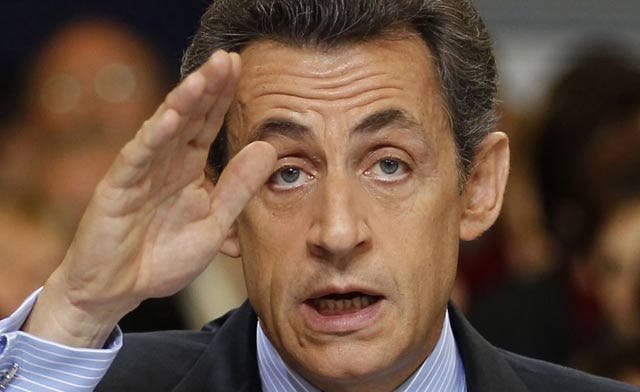 French president Sarkozy to visit Libya, as rebels gain strength
Against the backdrop of American drone attacks on Muammar Qaddafi's forces, President Nicolas Sarkozy of France announced plans to travel to Benghazi to meet the country's opposition, reported Agence-France Presse.

Mr. Sarkozy agreed to meet with the Transitional National Council sometime next week, a top presidential aide said in Paris.

On Friday, US Senator John McCain, Republican of Arizona, visited Benghazi, the center of the uprising, as a show of support for insurgents trying to overthrow Colonel Qaddafi. He urged his government to recognize the rebel council as the country's government and provide financial assistance and more military aid to the insurgents.
Despite sanctions placed against Libya by the United States, the European Union and the United Nations, Mr. Qaddafi's forces are said to be receiving funds from oil sales, according to various reports.

Mr. Sarkozy is scheduled to meet with Prime Minister Silvio Berlusconi of Italy next week to discuss ways to free up Libyan finances so that the country's opposition can have access to funds, the aide said.

It is estimated that around $120 billion of Mr. Qaddafi's government assets have been frozen worldwide. Libya has a population of fewer than 6.5 million and its GDP per capita for 2010 was $14,884.

Analysts have been speculating on the outcome of the crisis in Libya. Some believed that the situation was headed for a split in territories controlled by pro and anti-Qaddafi forces but Saturday's drone attacks by US forces seems to have tilted the balance of power toward the rebels.

According to the Associated Press, the Pentagon said the drone strike targeted Mr. Qaddafi's compound in Tripoli but there were no reported casualties.

On Saturday, opposition forces claimed victory after officials in Misrata decided to pull back their forces, AP reported.

According to a rebel activist in Misrata, the local tribes' support to Mr. Qaddafi is now in question. He told AP "this whole move is just to buy time," he said and added that he expected further attacks by forces still loyal to Colonel Qaddafi.

(Dina Al Shibeeb of Al Arabiya can be contacted at dina.ibrahim@mbc.net)