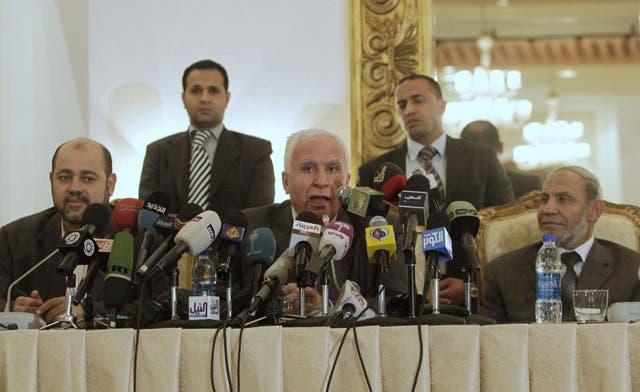 Israel and US question pact by Hamas and Fatah for unity government
Palestinian President Mahmoud Abbas's Fatah movement hammered an agreement with the rival Hamas group on Wednesday on forming a unity government and fixing a date for general election within a year, Egyptian intelligence said.

"The consultations resulted in full understandings over all points of discussions, including setting up an interim agreement with specific tasks and to set a date for election," Egyptian intelligence said in a statement. Spokesman for both Fatah and Hamas confirmed this on Wednesday evening.

An official of the United States said that the Obama Administration believes any Palestinian government must renounce violence, respect past peace deals and recognize Israel's right to exist if it is to play a constructive role, according to Reuters.
"The United States supports Palestinian reconciliation on terms which promote the cause of peace. Hamas, however, is a terrorist organization which targets civilians," White House spokesman Tommy Vietor said in a statement.
"To play a constructive role in achieving peace, any Palestinian government must accept the Quartet principles and renounce violence, abide by past agreements, and recognize Israel's right to exist," he said.

The so-called "Quartet" is the group of Middle East peace brokers made up of the United Nations, European Union, Russia and the United States.

Prime Minister Benjamin Netanyahu of Israel said that Palestinian president Mahmoud Abbas must choose between peace with Israel or with Hamas after rival Palestinian factions announced a reconciliation deal.

"The Palestinian Authority must choose between peace with Israel or peace with Hamas. There cannot be peace with both because Hamas strives to destroy the state of Israel and says so openly," Mr. Netanyahu said.

Mr. Netanyahu said such an agreement paved the way for Hamas to take control of the West Bank too.

"I think that the very idea of reconciliation shows the weakness of the Palestinian Authority and creates the prospect that Hamas could retake control of Judea and Samaria just like it took control of the Gaza Strip," he said, referring to the West Bank.

"I hope the Palestinian Authority will make the right choice—peace with Israel. The choice is in its hand," he said.

The two parties, Fatah and Hamas, met Egypt's new spy chief Murad Muwafi, whose predecessor Omar Suleiman tried unsuccessfully to bridge a split between the two groups that has left Gaza and the West Bank ruled by rival administrations of the Palestinian movement.

The delegation of the Islamist Hamas, which rules the Gaza Strip, includes senior members from the territory and its Damascus-based deputy leader, Mussa Abu Marzuk.

Nabil al-Arabi, Egypt's new foreign minister after a revolt toppled the previous regime in February, had said earlier that he planned to visit Ramallah, seat of the Palestinian Authority president, Mr. Abbas, to push for unity.

Hamas was at loggerheads with Fatah since Hamas won the parliamentary elections in January 2006. Hamas took control of the Gaza Strip, ending months of bloody conflict with Fatah security forces. Egypt, which shares a border with Gaza, has made several attempts to bring the two sides together.

The Palestinian factions were on the verge of agreeing a deal in 2009 that would have led to a transitional government ahead of elections when Hamas pulled out, saying the accord had been revised without its approval.

Meanwhile, the office of Israeli Prime Minister Benjamin Netanyahu said he would travel to Britain and France next week for talks on the peace process.

"The prime minister will meet with British Prime Minister David Cameron and French President Nicolas Sarkozy and discuss diplomatic issues with them," an Israeli statement said.

According to Israeli media, Mr. Netanyahu will try to convince them not to recognize a unilaterally declared Palestinian state.

Last week, the French and British envoys to the United Nations indicated their governments would consider such a move as a way to re-launch the peace process.

Following the breakdown of direct talks in September 2010, the Palestinians adopted a diplomatic strategy aimed at securing UN recognition of a Palestinian state based on the 1967 borders with Jerusalem as its capital.

They are expected to seek such recognition in September, when the UN General Assembly holds its annual meeting.

Israel and the United States oppose such a move, arguing a real solution can only be reached through negotiations.

Mr. Netanyahu is to outline his bid to tempt the Palestinians back to talks during a US visit in May.

(Dina Al-Shibeeb of Al Arabiya can be reached at: dina.ibrahim@mbc.net. Sara Ghasemilee, also of Al Arabiya, can be reached at: sara.ghasemilee@mbc.net)