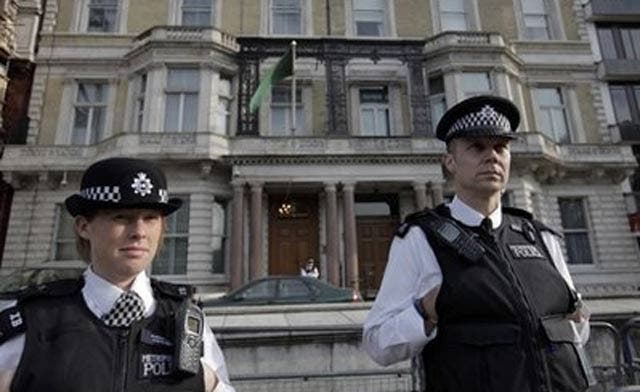 Britain expels Libyan ambassador after UK and Italy say Tripoli embassies attacked
Britain expelled the Libyan ambassador Sunday following attacks on the British and Italian embassies in Tripoli, saying Colonel Muammar Qaddafi's regime had failed in its duty to protect diplomatic missions.

Protesters set fire to the buildings, which are on the same street in central Tripoli, early on Sunday, an AFP reporter said, adding that the mob at the Italian embassy ripped down the Italian flag and threw it into the street.

Britain and Italy are both involved in military strikes against Libya as part of an UN-authorized operation to protect civilians from fierce fighting between Colonel Qaddafi's forces and rebels opposed to his four-decade rule.
"I condemn the attacks on the British embassy premises in Tripoli as well as the diplomatic missions of other countries," British Foreign Secretary William Hague said in a statement.

"The Vienna Convention requires the Qaddafi regime to protect diplomatic missions in Tripoli. By failing to do so the regime has once again breached its international responsibilities and obligations. I take the failure to protect such premises very seriously indeed. As a result, I have taken the decision to expel the Libyan ambassador. He is persona non grata pursuant to article nine of the Vienna Convention on Diplomatic Relations and has 24 hours to leave the country," Mr. Hague said.

The embassy attacks and the expulsion of Ambassador Omar Jelban came just hours after the Libyan regime accused NATO of killing Colonel Qaddafi's son and three grandchildren in bombing raids on Saturday evening.

Britain's embassy was thought to be empty at the time, as London has had no diplomatic presence in Tripoli since it recalled its ambassador at the start of hostilities. The only British team is in the rebel-held city of Benghazi.

The Italian embassy was also thought to be empty, as Rome closed down the diplomatic post in March.

In a statement, the Italian foreign ministry confirmed the "acts of vandalism," saying the attacks were "grave and vile actions."

"Qaddafi's regime, by not ensuring the necessary protection for foreign diplomatic missions in Tripoli, has again failed in its basic international obligations," it said.

Britain has been in the forefront of the international campaign against Colonel Qaddafi, including launching air strikes against his forces and calling for him to relinquish power.

For its part Italy, the former colonial power and previously one of the colonel's best friends in Europe, has recognized the rebel Provisional Transitional Council as the legitimate authority in Libya and called on Mr. Qaddafi to go.

Italy only joined the military operation against its former colony last week, almost six weeks after the campaign began with strikes by Britain, France and the United States.

Mr. Hague stressed that the embassy attacks "will not weaken our resolve to protect the civilian population in Libya."

Italy was Libya's top foreign trade partner before the conflict began, and Colonel Qaddafi signed a friendship treaty with Prime Minister Silvio Berlusconi in 2008, which opened the way for massive investments in each other's economies.

Interior Minister Roberto Maroni of Italy said Sunday that the government was boosting security checks after Colonel Qaddafi threatened retaliation for Rome's entry into the military campaign.

"Qaddafi's words confirm that we have to monitor the situation. It's what we are doing and we have intensified monitoring on our territory," he said.

Meanwhile UN international staff in Tripoli—believed to number eight—is preparing to leave because of unrest in the Libyan capital, a UN spokeswoman said.

"The UN is preparing to leave Tripoli," said Stephanie Bunker, spokeswoman for the U.N Office for the Coordination of Humanitarian Affairs (OCHA). "Apparently there was unrest in Tripoli and they've decided to leave the city."

She said the decision did not affect local UN staff. The United Nations sent international staff to Tripoli only last month after OCHA chief Valerie Amos reached an agreement with the Libyan government on a humanitarian presence.
Ms. Bunker said she understood there were eight of them and noted that under the agreement reached by Ms. Amos the Libyan government had promised to protect UN staff.

The world body also has international staff in Benghazi, the principal city in the rebel-controlled eastern part of Libya. They were not affected by the decision, she said.

(Sara Ghasemilee of Al Arabiya can be reached at: sara.ghasemilee@mbc.net)