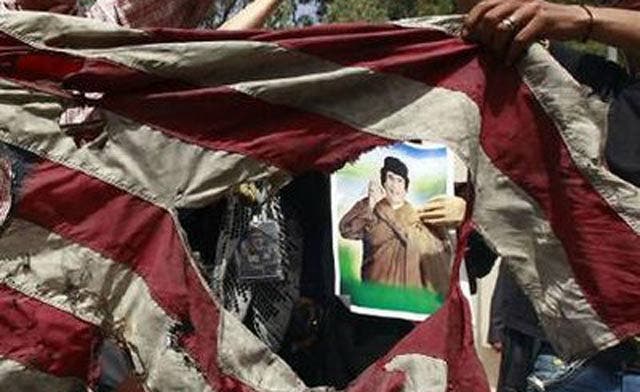 Qaddafi continues strikes in Misrata as fears grow about his chemical weapons
Muammar Qaddafi's forces used tanks to shell the town of Misrata on Monday, as rumors fueled fears that the Libyan leader was gearing up to use chemical weapons, reported Associated Press.

Hundreds have been killed in Misrata over the last two months as Colonel Qaddafi tried to seize control of the rebel territory from which his forces had been pushed out last week. The Qaddafi forces have been responding with relentless shelling from the area's outskirts.

"The shelling started up early Monday morning and only paused with the threat of NATO airstrikes," said Libyan activist Rida al-Montasser.

"Only when we heard the NATO planes flying over, the shelling paused," he added.
Although nations have been enforcing the no-fly zone over Libya for the past month-and-a-half, NATO officials are leading efforts to hit Qaddafi forces but find it difficult to target places in the 300,000 crowded population of Misrata.

Despite the pause in shelling on Sunday, fear spread that Qaddafi forces were gearing up to use chemical weapons against the rebels who are demanding that the Libyan leader step down.

"We heard like everybody else that the soldiers are distributing gas masks" in the nearby city of Zlitan, said Mr. al-Montasser.

AP could not independently confirm the rumors.

Rebels have requested a shipment of gas masks from officials in Benghazi, the de facto rebel capital in eastern Libya, said Mr. al-Montasser.

In 2003, Mr. Qaddafi vowed not to use chemical weapons again as part of his reconciliation efforts with the West, but officials believe he may resort to their use now.

On Sunday, the Libyan government carried out heavy strikes on Misrata's port and elsewhere in the city killing 12 and raising the death toll to 23 over days.

Sunday also saw acts of vandalism against Western embassies and a United Nations office in the capital, Tripoli, hours after NATO bombed Mr. Qaddafi's family compound, which killed his son and allegedly three grandchildren.

Although no one was injured in the embassy attacks, the incident caused the UN to pull its international staff out of Tripoli.

(Muna Khan of Al Arabiya can be reached at: muna.khan@mbc.net)