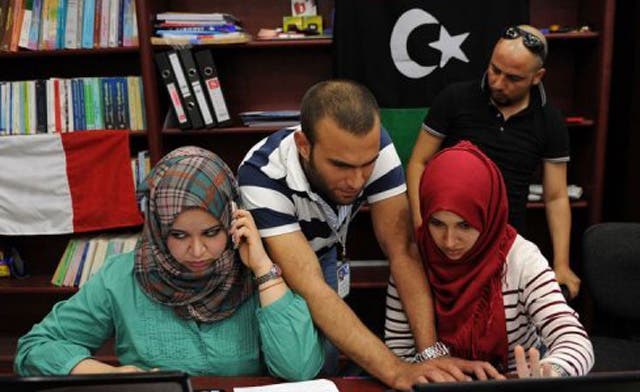 Libyan youth find new voices in the media
Benghazi is more than just the de facto capital of Libya's rebel forces. It is the nerve center of the newspapers and magazines that are mushrooming here as a new generation of entrepreneurs enjoys the freedom of airing their voices long suppressed by Muammar Qaddafi's regime.

Ahmed Al-Jahmy, 27, is one example of that voice. The son of a prominent pro-democracy activist who died after falling into a coma while jailed in solitary confinement, Mr. Jahmy is a political reporter at Panorama, a multilingual weekly newspaper.

"My father had many principles that I hope to advance," the young man, dressed in jeans and a black T-shirt, told Agence-France Presse. He appeared nervous as he looked around during the interview, not wholly convinced that the new freedom actually existed.

"Don't speak so loudly, you just don't know," he reprimanded his colleague Ziad who was discussing whether fundamentalism could gain ground in Libya's moderate Muslim society.


"There was no freedom of expression before," Mr. Jahmy told AFP with an apologetic smile.

"Under Mr. Qaddafi there was no way of starting a newspaper without security clearance, and every newspaper had to have [the leader's] Green Book slogans at the top of the front page," he said.

The two main newspapers during Colonel Qaddafi's regime in Benghazi were the state owned Akhbar Benghazi and Al-Qurayna, which were under the grip of Mr. Qaddafi's son Seif al-Islam.

"The press before was all by Qaddafi and [made] him look like an angel," said 20-year-old Miehad Mahana, an engineering and architecture student turned English editor.

"Now we can say whatever we want and we want the world to hear us: we don't want Mr. Qaddafi. We win or we die. We want to show the world the brave Libya that is willing to die to be free," she told AFP.

Panorama will release its second edition on May 3 and is the labor of love of 22 young Libyans, all under 30, "who worked countless hours to produce a publication containing articles in Arabic, English, French and Italian" according to AFP.

The first 2,000 copies cost them "575 dinars exactly" [$947.5] which the team financed themselves but they will soon have to put a price on the publication or find funding as it may prove difficult to sustain it.

"We want to show the real Libya... the poverty despite oil profits and all the problems that are a fall-out from Qaddafi: the high unemployment, the corruption, our polluted coastline," said Ziad.

"The collapse of censorship," he added, "opened many doors."

However, social mores still set some barriers "with values such as women's modesty pushing their female colleagues to return home early or women to refuse being photographed," reported AFP.

"When a woman is taking the picture it is more comfortable for women because of our culture and religion but some still do not accept to be photographed and we respect that," said 21-year-old Rona Issam Quleissa, the team's photographer.

The newly liberated Libyan media entrepreneurs are, however, still learning on the job about the mechanisms of the media—be it printing costs or distribution issues to fact-checking and media ethics.

But their efforts are not going un-noticed. An older generation of intellectuals—"who still recall their own secretive student meetings underscored by the fear that Mr. Qaddafi's revolutionary committees would eavesdrop or barge in to blow them up"—appreciates the efforts.

"Anyone can start a newspaper now, but most people doing this are young, and that's a real pleasure to see," said Ramadan Jabrou, a Benghazi-based lawyer and writer.

"There is a sense of initiative, a new mindset. Never mind the materials—they are doing it," said writer and diplomat Idris Tayeb Lamin.

"Before the revolution I don't think I saw my son read a newspaper once, but now he leaves home at eight in the morning and comes back at one the next morning because he's working on a magazine," he added.

Mr. Lamin's son, Yussef works for Ashab (Friends), a 32-page magazine which covers an array of topics—from the serious to the light-hearted—written in a dialect "by young people for young people" reports AFP.

"We write in dialect and slang so that people can relate to it because people were sick of the formal language of the regime," said Yussef.

Most of the magazine's 16 staff is aged 17 to 24 years.

"There's a blast of motivation and ambition to meet our goals," said the 23-year-old Mohammed Bozeid editor.

What is the one headline Ashab hopes to publish next?

"The fall of Qaddafi."


(Muna Khan of Al Arabiya can be contacted at muna.khan@mbc.net)