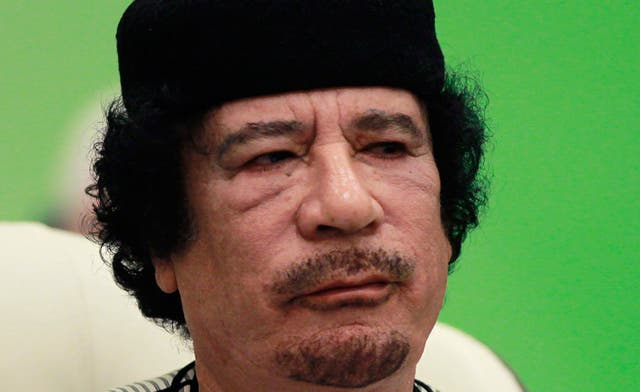 ICC may issue arrest warrants against Qaddafi, as Turkey asks him to exit Libya
International Criminal Court prosecutor Luis Moreno-Ocampo will likely issue arrest warrants for Libyan leader Muammar Qaddafi and his son Saif al-Islam, and several Libyan officials within the next weeks, according to a report that Mr. Ocampo plans to present before the United Nations Security Council on Wednesday.

Al Arabiya has seen that report. Mr. Ocampo will offer the Security Council an update on his investigation into Colonel Qaddafi's attacks on Libyan citizens in their rebellion against his autocratic rule. According to the report, Mr. Ocampo has had investigative help from several organizations familiar with the situation in Libya.
Meanwhile on Tuesday, Prime Minister Recep Tayyip Erdogan of Turkey said that Mr. Qaddafi must go. The New York Times reported that the statement by Turkey was its first public call on the embattled Libyan leader.

The Times said that Mr. Erdogan's tone is considered to be the harshest to date on the situation in Libya. It characterized the prime minister as a regional power broker.
According to Mr. Erdogan, Colonel Qaddafi had chosen "blood, tears, oppression" and that he must secede power and "immediately step down."

In addition to his heightened seriousness, Turkey's prime minister was confident that Qaddafi's departure has become "inevitable," and that he "must take this historic step in the name of Libya's future, territorial integrity and peace," The Times reported.

"Unfortunately, Muammar Qaddafi ignored our advice and... opted for bloodshed, oppression and attacking his own people," Mr. Erdogan told the media.

With regard to the ICC report, it was unclear Tuesday evening whether, technically speaking, the Security Council would need to request ICC judges to issue arrest warrants against "those who appear to bear the greatest responsibility for crimes committed in Libya." But sources close to Mr. Ocampo suggested that the arrest warrants would be a logical next step in his ongoing investigation of alleged atrocities committed by Mr. Qaddafi and his forces against Libyan rebels.

"From May 2 to 5, the ICC prosecutor will be in New York...(and) on May 4, the prosecutor will report to the Council on progress in the investigation regarding the situation in Libya where he opened an investigation into alleged crimes against humanity and war crimes," Mr. Ocampo's office said in a statement.

On March 3, the ICC prosecutor announced a probe into crimes against humanity committed in Libya, including against Mr. Qaddafi and his sons.

The prosecutor later added he would ask the ICC judges to issue arrest warrants a few weeks after informing the Council on the investigation's progress.

His office said last Thursday that allegations of war crimes committed by different parties would be further investigated.

The prosecutor's ongoing probe of crimes against humanity followed a referral by the Security Council on February 26 in a resolution, asking him to investigate the situation in Libya since mid-February.

Mr. Ocampo is also targeting four other senior Libyan officials, including Libya's top diplomat Mussa Kussa and former prime minister Abu Zeyd Omar Dorda, the director general of the Libyan External Security Organization.

Before the battle between Mr. Qaddafi's forces and the rebels, Turkey enjoyed a strong trade ties with Libya.

Around 25,000 Turkish workers were engaged in major construction projects in Libya at the beginning of the unrest in February, according to The New York Times.
"Like its expansionist policies elsewhere in MENA, Turkey began a visa agreement last year thereby allowing Libyan citizens to stay in Turkey for at least three months without a visa and signaling a turn in diplomatic and business relations. In Yemen, before the unrest unraveling there, Turkey gave Yemenis the go on traveling to Turkey without a visa as well," The Times wrote.

But soon after the bloody unrest, Turkey led a massive evacuation operation for its citizens and others in Libya.
Mr. Erdogan's comments came ahead of an expected meeting between Arab and Western members of the Libya Contact Group in Rome this week.

Mr. Qaddafi has rejected the proposed "road map" to end the conflict, which was initiated by Turkey last month. Turkey is NATO's sole Muslim-majority member

Turkey's announcement came after NATO's denying that the airstrike in which one of Mr. Qaddafi's sons and three of his grandchildren were reportedly killed (although a source close to Mr. Qaddafi has denied to Al Arabiya that the grandchildren died).

Turkey had harshly criticized the US-led air strikes on Libya launched on February 19 and insisted on a limited combat role for NATO once the alliance took over the command, AFP said.

It has refused to take part in air raids, contributing six military vessels to a patrol mission enforcing an UN-mandated arms embargo in Libyan waters.

It has also undertaken several humanitarian operations, notably the evacuation of more than 300 wounded Libyans from rebel-held areas for treatment in Turkey.

(Ammar Benaziz of Al Arabiya can be reached at: Ammar.benaziz@mbc.net, and Dina Al-Shibeeb, also of Al Arabiya can be contacted at: dina.ibrahim@mbc.net)