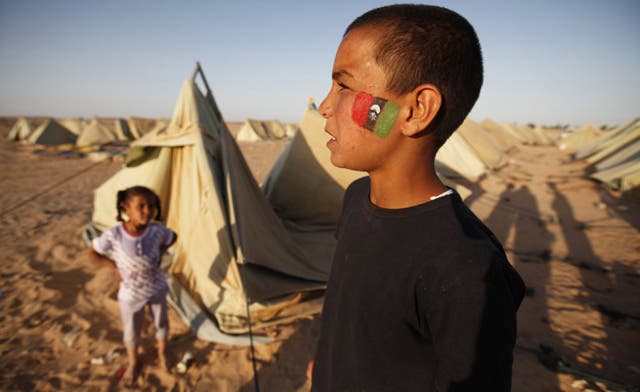 Libya protesters receive oil payments as NATO chief says 'game over' for Qaddafi
Oil payments for Libyan protesters selling crude oil are being made through a Qatari trust fund in US dollars, a member of the oil and gas support group for Libya said on Monday, as NATO said time was running out for Libyan leader Muammar Qaddafi.

"The payments for the Libyan crude are made through a bank account in Qatar and the payment is made in US dollars," said the oil industry source, who asked not to be identified.

"So far around 1 million barrels have been sold at $100 million and the money is used to buy basic commodities like food and other aid," the source said, speaking on the sidelines of a meeting of Libya opposition tribal councils in Abu Dhabi, according to Reuters.
Protesters fighting a fierce back-and-forth battle with forces loyal to Colonel Qaddafi are selling oil they control in order to fund their effort, with assistance from Qatar.

"We have set up an oil and gas support group in Doha and we now have an office there," the source said. "Qatar is helping with marketing the crude and our main target market is now southern Europe."

The NATO chief, meanwhile, said he was confident that time was running out for Colonel Qaddafi, despite the prolonged stalemate between his forces and protesters who seek his ouster.

But Anders Fogh Rasmussen also acknowledged the brutal war that has raged for nearly two months would be resolved politically, not militarily.

"The game is over for Mr. Qaddafi. He should realize sooner rather than later that there's no future for him or his regime," the NATO secretary-general told CNN's "State of the Union" program.

"We have stopped Mr. Qaddafi in his tracks. His time is running out. He's more and more isolated," he said according to Agence-France Presse.

Given the "wind of change" sweeping across North Africa and the Middle East, the death of Al Qaeda leader Osama bin Laden and the growing pressure on the Taliban in Afghanistan, the Danish former prime minister said he was "very optimistic" that Mr. Qaddafi would ultimately lose his decades-old grip on power.

NATO forces have kept up an air bombing campaign against Libyan military targets since March, but have failed so far to prevent the 68-year-old colonel from killing scores of his own people in revolt-held towns and cities -- the stated goal of a UN resolution authorizing the allied mission.

"First of all, we have to realize that there is no military solution. We will need a political solution" to break the stalemate, said Mr. Rasmussen.

But he also recognized it was "hard to imagine the attacks, the outrageous and systematic attacks against Libyan people, will stop as long as Mr. Qaddafi remains in power."

The United States led the bombing campaign in its first week but has since relinquished lead operational control to the transatlantic military alliance. US President Barack Obama has also called for Colonel Qaddafi to relinquish power.

His national security adviser, Tom Donilon, said Washington has no plans for now to step up its involvement in Libya.

"NATO is still running this operation now, we're supporting it," Mr. Donilon told ABC television's "This Week."

Asked whether the US would take the lead once more in allied operations in Libya, Mr. Donilon simply answered "no."

Former vice president Dick Cheney, meanwhile, criticized the Obama administration's "confused" policy on Libya, according to AFP.

"It's not clear exactly what the policy is," he told "Fox News Sunday."

He said the Obama administration should have engaged in a real military effort to rid Libya of Mr. Qaddafi.

Fighting has been raging in Misrata, a city in the Libyan conflict lying about 200 kilometers (125 miles) east of the capital which has been besieged by Colonel Qaddafi forces for weeks.

Forces loyal to Mr. Qaddafi "destroyed the only tanks that were full," Ahmad Monthasser, a protester from Misrata, told AFP.

Rebels warned that residents of Misrata could run out of food and water within a month if they are not provided with "game-changing" weapons to defeat Colonel Qaddafi's forces.

World powers have promised $250 million (175 million euros) in humanitarian aid to the protesters and said the Mr. Qaddafi regime's frozen overseas assets, estimated at $60 billion, would be used later to assist the Libyan opposition.

The economic situation in rebel-held areas, including Benghazi, is steadily worsening, with costs of basic commodities skyrocketing and the rebel administration facing shortage of funds as receipts from oil exports have come to a virtual halt.

(Abeer Tayel of Al Arabiya can be reached at: abeer.tayel@mbc.net)