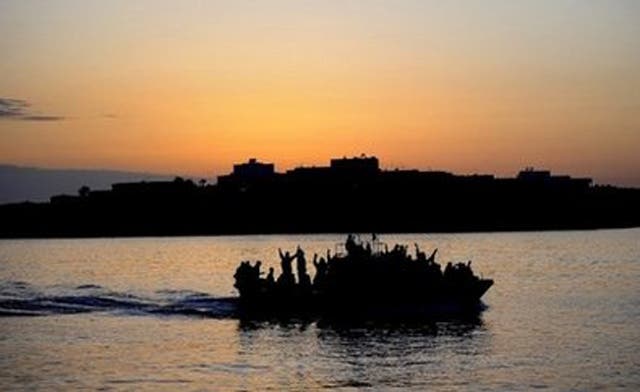 NATO investigating claims of migrant deaths on drifting boat
NATO says that it was looking into claims made by a newspaper that its units failed to help a drifting boat with Libyan migrants on board, 62 of whom later died.

The Guardian newspaper said the boat had on board 72 passengers, several of them women and children, and was headed for Lampedusa Island in Italy on March 25 when it ran into trouble after leaving Tripoli.

The migrants used a satellite phone to call an Eritrean priest, Father Moses Zerai, in Rome, who runs a refugee rights organization called Habeshia. He alerted the Italian coastguard but no help came despite Mr. Zerai being assured his call had been noted.

They are also said to have made contact with an army helicopter and NATO warship but no attempt was seemingly made to rescue the boat.

An army helicopter came over the vessel, lowered some food and water to passengers and told them to remain in position until a rescue boat arrived—and flew off but no boat came.

The Guardian estimated that on March 29 or 30, the vessel drifted near a NATO aircraft carrier and, according to survivor accounts, two jets took off from the ship whilst passengers waited to be rescued—but "no help was forthcoming," said the paper.

Only 10 people survived as the boat drifted in open waters for 16 days while the rest died of hunger and thirst.

"We are looking into the allegations of the Guardian. I hope to have a reaction soon," NATO spokeswoman Carmen Romero said to Reuters. "NATO vessels are fully aware of their responsibilities with regard to international maritime law on safety of lives at sea."

According to the Guardian report, passengers aboard included 47 Ethiopians, seven Nigerians, seven Eritreans, six Ghanaians and five Sudanese. Twenty were women and two were small children, one of whom was one-year-old.

The newspaper said that the boat washed up on a beach near Zlitan near Misrata in Libya on April 10 and one person died on reaching land, leaving just 10 survivors.

After conducting research, the Guardian said the aircraft carrier was most probably the French Charles de Gaulle, which was operating in the Mediterranean. The carrier was part of an international operation off Libya but not under NATO's command. The only carrier under NATO's command was Italian.

Ms. Romero said on March 26 – 27, "several NATO units were involved in rescuing more than 500 people from two vessels carrying migrants in incidents in an area about 15 nautical miles (28 kmkilometers) north-northeast of Tripoli."

She said, "The people rescued were transferred to Lampedusa with the assistance of the Italian authorities."

Dozens of immigrants from North Africa have died in their attempt to reach Italy.

On April 6, a boat with 200 people aboard sank near Sicily. Italian rescue ships were only able to save 50 people by the time they reached the spot.

(Muna Khan of Al Arabiya can be reached at: muna.khan@mbc.net)