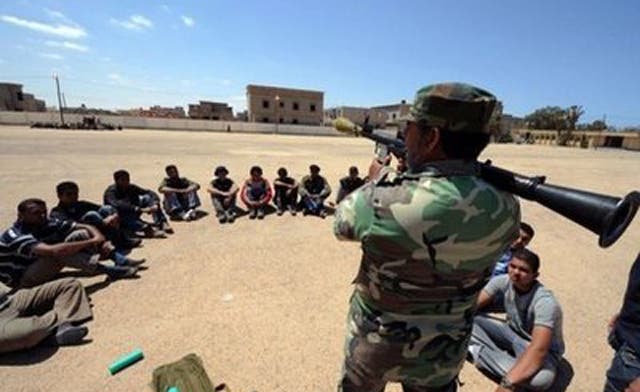 NATO jets bomb Tripoli amid reports of opposition uprisings in Libyan capital
NATO jets screamed in low over Tripoli early Tuesday, carrying out a series of strikes in quick succession, after witnesses reported two others near state media offices a few hours before. Some newspaper reports said that protesters were leading an uprising in the suburbs of the capital.

Eight explosions were heard in the capital Tripoli as jets carried out unusually heavy bombardment over roughly three hours.

Four explosions rocked the Libyan capital shortly after 2:00 am (0000 GMT) on Tuesday, shaking the windows of a hotel housing journalists. They were quickly followed by two more blasts, Agence-France Presse reported.

Libyan officials said four children were wounded by flying glass caused by blasts from NATO strikes in the Tripoli area overnight.

Late Monday, witnesses reported two explosions in the capital as jets flew overhead, adding that smoke was rising from a site near the offices of Libyan television and state news agency JANA.

The blasts came after NATO chief Anders Fogh Rasmussen said time was running out for Libyan leader Muammar Qaddafi, who "should realize sooner rather than later that there's no future for him or his regime."

On Monday, protesters told Reuters that bombed a government arms depot four times during the day about 30 km (20 miles) southeast of Zintan, a town in the Western Mountains region, where conflict is escalating.

A Libyan opposition newspaper, meanwhile, said opposition fighters were leading an uprising in the suburbs of Tripoli after being supplied with light weapons by defecting security service officers. The government denied the report.

A Reuters reporter said he could hear no gunfire and was unable to verify the report, posted on the Website of the opposition newspaper Brnieq.

Brnieq quoted witnesses who said a full-scale uprising against the rule of Colonel Qaddafi was taking place in the suburbs of Tripoli.

A government official in Tripoli denied the report. "It's peaceful out there," he said.

Earlier Monday, protesters fighting to oust the 68-year-old colonel drove his forces back from around the revolt-held western city Misrata and were poised to make another thrust.

After heavy clashes, the protesters controlled a stretch of coastal road west of Misrata, Libya's third-largest city which Mr. Qaddafi's forces have laid siege to for more than two months, forcing thousands to flee.

Ahmed Hassan, an opposition spokesman in Misrata, said the protesters had also "liberated" areas south and east of the city, killing many government troops and seizing a large amount of weapons.

In all, the United Nations said Monday that nearly 750,000 people have fled Libya since Mr. Qaddafi's forces launched an offensive against anti-government demonstrators, according to AFP.

Around 750,000 people have fled Libya ever since Mr. Qaddafi's regime offensive against protesters mid-February, Agence-France Presse reported the UN humanitarian chief as saying on Monday.

"The conflict, the breakdown of state infrastructure and shortages of cash and fuel are causing serious problems to the population of Libya," Valerie Amos, UN chief humanitarian coordinator, told the UN Security Council.

Besides the people that have fled the country, about 5,000 are stranded at border points in Egypt, Tunisia and Niger and some 58,000 are displaced in eastern Libya, Ms. Amos said.

"Widespread shortages are paralyzing the country in ways which will impact gravely on the general population in the months ahead, particularly for the poorest and the most vulnerable," Ms. Amos told ambassadors from the 15-nation council.

UN humanitarian workers were pulled out of Tripoli after the UN compound was ransacked on May 1, just after a coalition air raid which killed one of Mr. Qaddafi's sons.

"The government has apologized for the incident and offered full compensation for the damage caused," Ms. Amos said, adding that new security guarantees had been given by the government.

"It is our intention to return as soon as possible to Tripoli and open land access to Misrata, the western mountains and other affected areas," she said.

Libyan rebels suffer from a funding problem, but have received millions of dollars from the United States, Qatar and the United Arab Emirates.

"Some people are running short of food, water and other basics. Medical facilities need supplies and trained personnel," Ms. Amos said.

The Red Cross, meanwhile, said it delivered a shipment of humanitarian aid to Misrata amid concerns Colonel Qaddafi's forces may have dropped mines into the harbor from helicopters bearing the Red Cross emblem.

And the International Organization for Migration said it had growing accounts from refugees arriving in Italy indicating an overloaded boat carrying hundreds of people capsized off the Libyan coast on Friday.

Italian coast guards and fisherman saved all 528 refugees from Libya after their boat hit rocks off the island of Lampedusa in an operation a rescuer described as a "miracle." Among the refugees were 24 pregnant women.

Norway, one of the first nations to offer air assets to the NATO operation, announced it would curb its military contribution if the campaign runs past June 24.

World powers have promised $250 million (175 million euros) in humanitarian aid to the rebels and said Mr. Qaddafi regime's frozen overseas assets, estimated at $60 billion, would be used later to assist the Libyan opposition.

(Abeer Tayel of Al Arabiya can be reached at: abeer.tayel@mbc.net. Dina al-Shibeeb of Al Arabiya can be reached at: dina.ibrahim@mbc.net)