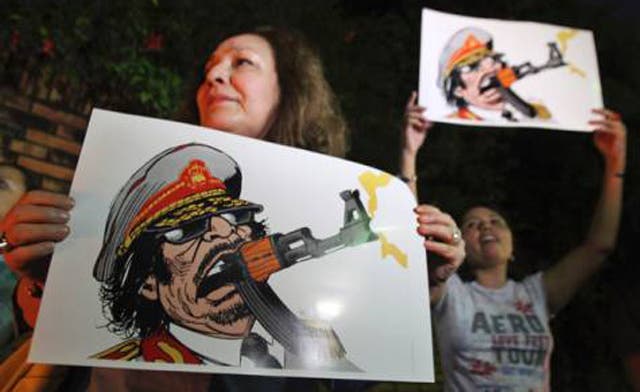 Net tightens on Libya's Qaddafi as arrest sought and another top aide defects
Pressure mounted on Libyan leader Muammar Qaddafi Tuesday as the International Criminal Court prosecutor sought his arrest, NATO jets pounded his capital, his truce offer was snubbed and a top aide defected.

Compounding the 68-year-old colonel's woes, a security services building and the headquarters of Libya's anti-corruption agency were on fire in Tripoli early Tuesday after apparently being hit by NATO air strikes, according to Agence-France Presse.

Two buildings on al-Jamahiriya Avenue, close to Colonel Qaddafi's residence were on fire, with firefighters battling to douse the flames that were tearing through the two facing buildings.
Government spokesman Moussa Ibrahim later said that the protesters National Transitional Council (NTC) had directed NATO to attack the anti-corruption agency in a bid to destroy files related to former regime officials who have joined the revolution.

"We believe that NATO has been misled to destroy files on their corruption cases," he told journalists.

Three explosions had also been heard late on Monday in the same area.

Parts of Tripoli have been targeted almost daily by NATO-led strikes launched on March 19 after a UN resolution called for the protection of civilians from the colonel's regime.

Al Arabiya TV, meanwhile, reported on Monday that Shokri Ghanem, chairman of Libya's National Oil Corporation (NOC), had defected from the regime of Colonel Gaddafi.

Al Arabiya quoted sources in the TNC as saying that Mr. Ghanem had defected and joined opposition ranks.

Mr. Ghanem denied in an interview with Reuters in late March that he had left Libya, after a pan-Arab TV station carried a similar report saying he had defected from the Qaddafi regime to Tunisia.

Mr. Ghanem, 68, represents Libya at OPEC meetings. The US-educated official has been NOC chairman since 2006.

In The Hague, ICC chief prosecutor Luis Moreno-Ocampo applied earlier on Monday for warrants for the arrest of Mr. Qaddafi, his son Saif al-Islam and intelligence head Abdullah Senussi for crimes against humanity.

The Argentine prosecutor said there was evidence "that Colonel Qaddafi personally ordered attacks on innocent Libyan civilians."

A panel of ICC judges will now decide whether to accept or reject the prosecutor's application.

Mr. Moreno-Ocampo said thousands of people had been killed and around 750,000 people forced to flee since Mr. Qaddafi ordered his forces to crush protests against his four-decade autocratic rule that began on February 15.

British Foreign Secretary William Hague called on the international community to "fully support" the ICC.

"I welcome this announcement. The human rights situation in western Libya and the behavior of the Qaddafi regime remains of grave concern," Mr. Hague said.

The protesters too hailed the move by the ICC but said that Colonel Qaddafi ought to be tried in Libya first.

"The National Transitional Council welcomes the decision of chief prosecutor of the International Criminal Court, Luis Moreno-Ocampo, to request an arrest warrant," the opposition administration's vice president, Abdul Hafez Ghoga, said.

"We would like him to be tried in Libya first before being put on trial in an international court," he added.

The Libyan regime however claimed the ICC prosecutor was acting on "incoherent" information.

"Unfortunately, the ICC was from the start of the Libyan crisis dependent on media reports to evaluate the situation in Libya. As a result, the ICC has usually reached incoherent conclusions," government spokesman Mussa Ibrahim said in a statement.

Russia was meanwhile to hold talks on Tuesday with envoys of the Libyan leader before having a separate meeting with opposition representatives at a later date.

"We have agreed Moscow meetings with representatives of both Tripoli and Benghazi," the ITAR-TASS news agency quoted Foreign Minister Sergei Lavrov as saying.

Russia has refused to accept the protesters as a legitimate power in Libya and still has formal ties with the Qaddafi regime.

On Sunday, Libya's Prime Minister Baghdadi Mahmoudi offered a truce to UN special envoy, Abdul-Ilah al-Khatib, in return for an immediate NATO ceasefire. Earlier truce offers have resulted in nothing because Mr. Qaddafi continued attacking his own people.

(Abeer Tayel, an editor at Al Arabiya, can be reached at: abeer.tayel@mbc.net)