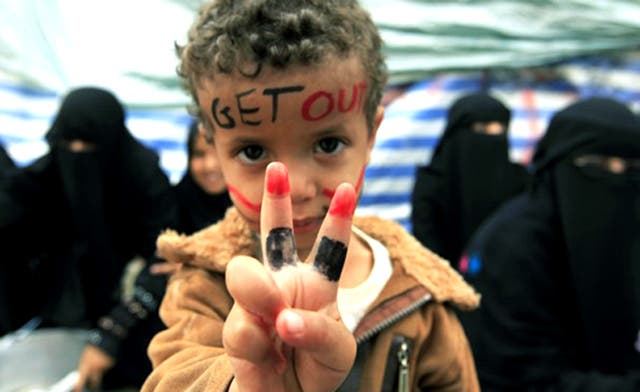 To sign or not to sign the GCC Yemen pact? President Saleh says 'Yes!' again
President Ali Abdullah Saleh of Yemen changed his mind once again Thursday evening and, reversing his rejection of Wednesday, said that he would sign a GCC-brokered accord ensuring his exit from power with full immunity against prosecution—setting Sunday as the day when he would formally apply his signature to the document.

Perhaps the tough language used by President Barack Obama of the United States in a speech in Washington on Thursday persuaded him. In that speech, Mr. Obama referred to the needed to advance the democratic process in Yemen—and the need for Mr. Saleh's forces to stop shooting at pro-democracy protesters.
Gulf mediator Abdullatif al-Zayani had left Sana'a on Wednesday without the signing of an accord to end Yemen's deadly anti-regime protests. Since then, GCC leaders were reported to frenetically work through back channels to get Mr. Saleh to go along with the accord.

The six GCC states have proposed an exit plan that would see embattled President Saleh out of office within 30 days.

Yahia Abu Asbaa, a prominent member of the Yemeni Opposition told Al Arabiya, that President Saleh and representatives of the opposition would sign the GCC Initiative final document on Wednesday. But he was proven wrong.

On earlier occasions when Mr. Saleh and his opponents had agreed to the GCC deal, arrangements for signing the accord collapsed mainly because of the president's recalcitrance.

Mr. Zayani, Secretary General of the GCC, had returned to the Yemeni capital, Sana'a on Saturday for a three-day visit to try to revive the Gulf initiative.

President Saleh, 65, had stalled by refusing to sign in his capacity as president, insisting on endorsing the agreement only as leader of the General People's Congress (GPC), contrary to the demands of the opposition.

He has said that under the constitution he should serve out his current term of office, which expires in 2013.

But on the Obama Administration—in whose favor Mr. Saleh was for a long time—contacted him last Thursday and urged him to sign the deal "now," according to Agence-France Presse.

The Gulf plan, which has lost Qatar's support, proposes the formation of a government of national unity, Mr. Saleh transferring power to his vice president Abdu Rabu Mansour Hadi and an end to deadly protests, which have shaken the 24-million-people country since late January.

The president would submit his resignation to parliament within 30 days and this would be followed by presidential election within two months. In exchange, Mr. Saleh and his top aides would be granted immunity from prosecution.

International alarm has mounted over instability in Yemen, home to an ambitious wing of Al Qaeda, whose leader has sworn vengeance for the killing by US Special Forces of their chief Osama Bin Laden on May 2.

France, which called for the agreement to be signed without delay, deplored "the excessive use of force against demonstrators" and urged Yemeni authorities to protect them.

Deputy Foreign Minister Werner Hoyer of Germany said that repression was not the answer to the political vacuum and the country's deepening problems, adding that those responsible had to be held to account.

"President Saleh is requested, with regard to the mediation offer by the Gulf Cooperation Council, to contribute to an orderly political transition without delay," he said in a statement. "I welcome the fact that the European Union has put its support clearly behind this offer."

At least 180 people have been killed in clashes during protests against Mr. Saleh's regime that erupted in late January, according to a toll compiled from reports by activists and medics.
Previously, the White House on Wednesday urged Saleh to sign a plan brokered by states in the region to end the bloody unrest, which has wracked the Gulf nation in past months.

US presidential aide John Brennan called the Yemeni leader to urge him to sign and implement the agreement "so that Yemen is able to move forward immediately with its political transition," a White House statement said.

(Abeer Tayel, an editor at Al Arabiya, can be reached at: abeer.tayel@mbc.net. Ammar Ben Aziz, a senior journalist, at Al Arabiya, can be reached at: ammar.benaziz@mbc.net)