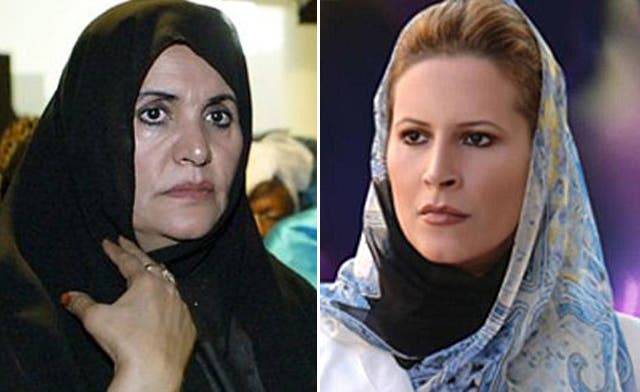 Did they or did they not? Qaddafi's wife, daughter said to be in a puzzled Tunisia
The wife and daughter of Libyan leader Muammar Qaddafi crossed over the border into Tunisia several days ago, a Tunisian security source told Reuters on Wednesday. But early Thursday, another Tunisian official said that the Qaddafi women were not in the country.

The first source insisted that he was right. So did the second source.

Mr. Qaddafi's wife Safia Firkash and his daughter Aisha came to Tunisia with a Libyan delegation on May 14 and are on the island of Djerba in the south, the source said.
"It was expected that they would leave yesterday but they are still at Djerba," the source added.

It did not appear that the two women had been travelling with Shokri Ghanem, Libya's top oil official, who is believed to have also crossed into Tunisia and appears to have defected.

Libyan officials in Tripoli were not immediately available for comment. Mr. Qaddafi, who rarely speaks publicly about the women in his family, was not available for comment either.

At the same time, the Libyan regime came under fire, as the International Criminal Court warned that if the regime does not refrain from covering up crimes committed against their people, it will be charged, Agence-France Presse reported.

"(Libyan) diplomats working in Libya cannot be part of the cover-up of these crimes—we want to be clear on that," Luis Moreno-Ocampo said at a press conference in The Hague, where the world court is based.

"Failure to do so would result in an investigation and prosecution," he added.

The Muammar Qaddafi regime received Mr. Moreno-Oacampo's warning via a letter sent to the Libyan Foreign Minister Abdelati Obeidi calling on him and "other Libyan authorities to refrain from being involved in such a cover-up."

The office "considers that part of the criminal plan implemented in Libya includes the cover-up of the crimes" committed to quash a popular uprising against Colonel Qaddafi that erupted in February.

The ICC prosecutor said that "even Mr Qaddafi himself said 'where's the bodies', because what they do is that their doctors are prohibited to register dead people in hospitals... the bodies are hidden," when he was asked on how the regime's covered up the crimes.

"If they shoot at or attack a mosque sometimes they destroy the mosque to terminate any links connected to the crime," he said.

The ICC prosecutor issued arrest warrants on Monday for Colonel Qaddafi, and his son Saif al-Islam for crimes against humanity, a decision that was welcomed by the Libyan rebels, but who said that the three charged should be tried in their home country first.

The Argentinean prosecutor said that Libya is a UN member and is obliged to implement the arrest warrants, despite Libya's non-recognition of the UN body.

Libya's government spokesman Mussa Ibrahim also dismissed the ICC's bid, saying the court has no jurisdiction over Tripoli while denying accusations that the regime ordered the killing of civilians or hired mercenaries against them.

One of the crimes committed against the Libyans being investigated by the ICC is the gang rape of women in the country.

The UN prosecutor said that his office was looking at whether Mr. Qaddafi—whose bragging about his sexual prowess is legendary—had ordered these rapes himself.

One of the leads was whether there was a link between the rapes and a huge consignment of Viagra drugs, which Mr. Moreno-Ocampo said were bought in "massive numbers to use."

His office was also looking at the killing of sub-Saharan Africans by rebel forces, who accused "any black person" of being a mercenary fighting for Mr. Qaddafi.

"After that there were allegations in Benghazi that black people were killed, just because they were being black," he said in reference to the rebels' capital.

Thousands of people have died in violent clashes pitting regime opponents and Qaddafi loyalists, and forced some 750,000 to flee, according to data from the ICC and the UN.

Critics have slammed the ICC attention given mainly to Libya while Syria, Libya and Bahrain have not been served arrest warrant letters. In addition to that, the United States, Russia and China, are also not part of the ICC, reducing the chances of a trial against Colonel Qaddafi and his henchmen.

(Dina al-Shibeeb, an editor at Al Arabiya, can be reached at: dina.ibrahim@mbc.net)