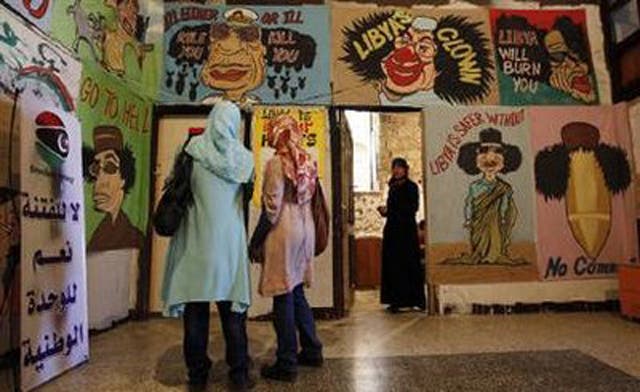 NATO planes hit Qaddafi warships as Obama predicts Libyan's exit from power
NATO aircraft sank eight warships belonging to Libyan leader Muammar Qaddafi's forces in overnight attacks, the alliance said on Friday, hours after President Barack Obama of the United States predicted the veteran Libyan colonel would "inevitably" leave or be forced from power.

The ships were sunk in coordinated attacks on the ports of Tripoli, al-Khums and Sirte, an alliance statement said.

"Given the escalating use of naval assets, NATO had no choice but to take decisive action to protect the civilian population of Libya and NATO forces at sea," Rear-Admiral Russell Harding, deputy commander of the NATO mission in Libya, said in a statement, according to Reuters.
"Overnight, NATO aircraft hit pro-Qaddafi warships, striking eight vessels," the statement said.

"All NATO's targets are military in nature and are directly linked to the Qaddafi regime's systematic attacks on the Libyan people," said Admiral Harding.

Fresh explosions were heard in the Libyan capital Tripoli early Friday hours after NATO air strikes targeted the city's port, with a ship still ablaze after the raid.

An Agence-France Presse journalist, part of a group sent by the authorities to a bridge facing the port about a kilometer (less than a mile) away, was unable to determine whether the blazing ship was a military or civilian vessel.

The NATO statement said: "Over the past couple of weeks we have witnessed indiscriminate mining and the escalating use of force by pro-Qaddafi maritime forces."

"This has directly disrupted the safe flow of desperately needed humanitarian assistance and put NATO forces at risk. This development of pro-Qaddafi tactics has also demonstrated a clear intent to attack NATO forces," the statement said.

Admiral Harding said: "All the vessels targeted last night were naval warships with no civilian utility."

Earlier, regime spokesman Mussa Ibrahim told a press conference in the Libyan capital: "I have just learned that the port of Tripoli is now being targeted by NATO air raids. I am told that a boat has been hit."

He did not give further details on the vessel, but told the journalists: "Whatever the ship that has been hit, it is clearly a message sent by NATO to the international maritime companies not to send any more vessels to Libya."

"Military and civilian sites are currently the targets of raids by the colonialist Crusader aggressor," Libyan state television said.

Tripoli is targeted nearly daily with air raids by the international coalition, which launched strikes on March 19 to prevent Colonel Qaddafi's forces from attacking civilians.

NATO took over command of the operation over the country of six million people on March 31.

The Libyan government spokesman described as "delusional" President Obama's prediction in a keynote speech on US Middle East policy of the Libyan leader's inevitable demise.

"Obama is still delusional—he believes the lies that his own government and own media spread around the world," Mr. Ibrahim said.

"It's not Obama who decides whether Muammar Qaddafi leaves Libya or not. It's the Libyan people who decide their future," he added.

In a major speech responding to the protest movements sweeping the Arab world, Obama had said: "Time is working against Qaddafi."

"He does not have control over his country. The opposition has organized a legitimate and credible interim council," Mr. Obama said of the rebels' National Transitional Council based in their eastern stronghold of Benghazi.

"And when Qaddafi inevitably leaves or is forced from power, decades of provocation will come to an end, and the transition to a democratic Libya can proceed," Mr. Obama said.

His remarks were welcomed by the vice chairman of the rebel administration, Abdul Hafiz Ghoga.

"We welcome the statements made regarding the legitimacy of the body of the National Transitional Council," Mr. Ghoga said in Benghazi.

"We look forward to further support from the United States and the international community to help us further develop our democratic aspirations and for the development of our people," he said.

Acting under a UN mandate, NATO allies including France, Britain and the United States are conducting air strikes that aim to stop Colonel Qaddafi using military force against civilians.

In some of the latest strikes, NATO hit Mr. Qaddafi's forces around 15 kilometers (9 miles) east of the revolt-held town of Zintan in the Western Mountains region. The town and the port city of Misrata have seen some of the heaviest fighting in recent weeks.

A Reuters reporter in Zintan said NATO strikes on a government weapons depot outside the city sent plumes of smoke into the sky. Government shelling of opposition positions near the town killed at least one protester and wounded three, a medical official in the town said.

Protesters control eastern Libya and pockets in the west but the conflict has reached a stalemate as rebel attempts to advance on Mr. Qaddafi's stronghold of Tripoli have stalled.

Libyan state TV showed footage of Colonel Qaddafi meeting a Libyan politician in Tripoli, who government spokesman Ibrahim said had been part of a delegation that met Russian officials in Moscow this week to explore possibilities for a ceasefire.

The footage zoomed in on a TV screen in the room that showed Thursday's date displayed in the corner. The leader wore a brown robe with a hat and sunglasses.

Mr. Qaddafi, 68, was last seen on May 11 when state TV showed him meeting tribal leaders in Tripoli. NATO bombed his compound the next day, and a day later TV broadcast an audio clip in which he taunted NATO and said the alliance could not kill him.

Western powers are likely to stress their determination to keep the pressure on Colonel Qaddafi when heads of state from the Group of Eight industrialized nations meet on May 27-28.

In an attempt to raise pressure on Tripoli, the European Union is considering tightening sanctions by blacklisting some Libyan ports to prevent exports of oil and imports of fuel, a Western diplomatic source told Reuters.

(Abeer Tayel, an editor at Al Arabiya, can be reached at: abeer.tayel@mbc.net)