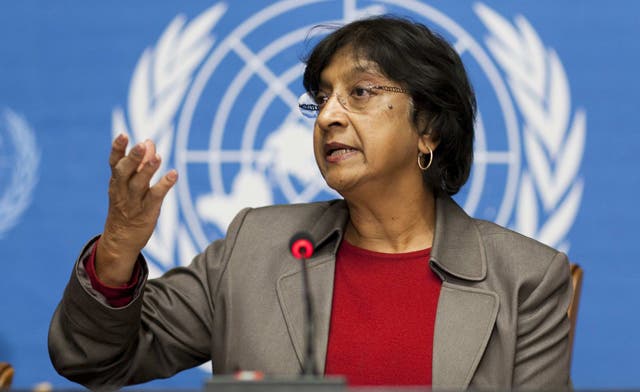 Brutality in Libya and Syria 'shocking': UN rights chief
United Nations rights chief Navi Pillay on Monday slammed the brutality of crackdowns on protestors by government forces in Libya and Syria, saying the actions were shocking in their disregard for human rights.

"The brutality and magnitude of measures taken by the governments in Libya and now Syria have been particularly shocking in their outright disregard for basic human rights," Ms. Pillay told the UN Human Rights Council.

More than 1,000 people have been killed and 10,000 arrested since the revolt began in Syria, rights groups said.
On Sunday, Syrian security forces shot dead seven people and wounded more than 100 in and around Talbisa and Rastan, according to an activist.

"Resort to lethal or excessive force against peaceful demonstrators not only violates fundamental rights, including the right to life, but serves to exacerbate tensions and tends to breed a culture of violence," Ms. Pillay said.

The UN High Commissioner for Human Rights also renewed a call to the Syrian regime to allow a fact-finding mission to visit the country.

She noted that authorities in Yemen and Bahrain have both responded to separate mission requests, with Yemen agreeing to a visit in late June and dates to be worked out with Bahrain.

The UN Human Rights Council had ordered that a mission be sent to probe the situation in Syria during its April 29 special session on the situation in the country.

On Monday, US ambassador Eileen Donahoe also slammed Syria for its refusal to allow in the mission.

"We note however, whereas the commission of inquiry has been afforded access to Libya, the Syrian regime's refusal to afford similar access is intolerable."

"We call on the Syrian government to expeditiously admit OHCHR (Office of the High Commissioner for Human Rights) to the country and allow for an objective and independent investigation," the US ambassador said.

In her address at the opening of the Council's 17th session on Monday, Ms. Pillay also outlined other human rights concerns elsewhere in the world.

She expressed alarm at recent violence in Sudan's contested border region of Abyei, which was recently seized by Khartoum's troops, and also voiced concern over a crackdown on opposition activists in Iran.

In Europe, Ms. Pillay said she was "concerned over the rhetoric of recent months, in Italy and France in particular, to depict migrants as a singular problem best offloaded elsewhere."