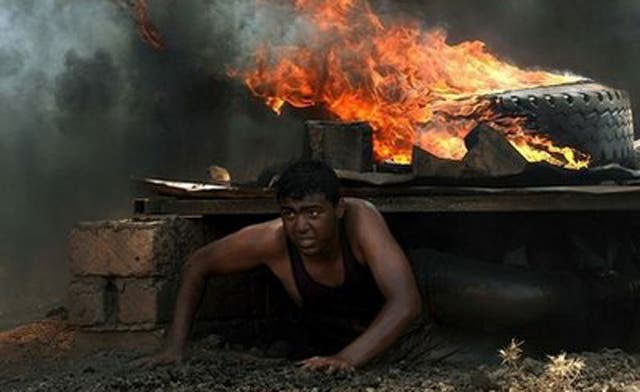 NATO strikes Tripoli as South Africa calls for immediate ceasefire after Zuma's visit
NATO pounded Libya's capital on Tuesday, only hours after South Africa's president left following talks that produced only a commitment to a peace plan already rejected by the military alliance and opposition.

South Africa's foreign minister called for an immediate ceasefire in Libya on Tuesday, after President Jacob Zuma's talks Muammar Qaddafi in Tripoli failed to advance a regional peace plan.

"Consistent with the decision of the AU on Libya, we reiterate our call for immediate ceasefire that is verifiable and encourage the warring parties to begin a dialogue to a democratic transition," Maite Nkoana-Mashabane told parliament.
"We strongly still believe that there is no solution for the Libyan problem that will come militarily but only with political dialogue," she said, according to Agence-France Presse.

Mr. Zuma met with Colonel Qaddafi in Tripoli on Monday, but failed to close the gap between the Libyan leader and protesters on a plan proposed by the African Union.

The revolt has rejected the AU proposal, which calls for a ceasefire and political reforms, but falls short of their demand for the 68-year-old colonel to leave power.
"Roadmap of the AU"
After meeting Mr. Qaddafi, President Zuma said that the Libyan leader was "ready to implement the roadmap of the AU," which would include a halt to NATO-led bombing, according to AFP.

Colonel Qaddafi insisted "all Libyans be given a chance to talk among themselves" to determine the country's future, said President Zuma, who is heading the African Union mediation process in the six-million-population nation.

The African Union is one of the only organizations able to win the ear of Mr. Qaddafi, who has long sought to manipulate the regional bloc to his own ends, often with generous financial support to African leaders.

But Mr. Zuma has opposed the Libyan leader's efforts to win greater influence through the African Union, including his drive to create a "United States of Africa" that the Libyan leader dreamed of basing in his hometown of Syrte.

South Africa was once tipped as a possible exile destination for Mr. qaddafi, but Pretoria has said no offer was ever extended.

That possibility is now more remote after the chief prosecutor at the International Criminal Court in The Hague sought an arrest warrant for him on charges of crimes against humanity, accusing him of having ordered his forces to gun down civilians in their homes, at funerals and outside mosques.

If the warrant is issued by the court's judges, South Africa's treaty obligations would require Mr. Qaddafi's arrest if he were to enter the country.

But the Times newspaper in Johannesburg reported Tuesday that Libyan officials have entered into a agreement with South African law firm Langa Attorneys to provide legal advice and services to Colonel Qaddafi and other top leaders.

"The deal will include defending the Libyan government officials in the event that they are hauled before the International Criminal Court (in The Hague) on charges of human rights abuses," a source told the newspaper.

Under the agreement reportedly reached three weeks ago, the firm was asked to assemble a team of international law experts to put together Mr. Qaddafi's defense strategy if he quits, says the report.
NATO strikes Tripoli
Within hours of Mr. Zuma's departure, Libyan television reported that NATO aircraft had resumed attacks, striking what it called civilian and military sites in the desert settlement of al-Jufrah, 460 kilometers (285 miles) southeast of Tripoli.

Coalition aircraft also struck a number of civilian and military sites in the capital's Tajura district, the television reported.

Western leaders in charge of the two-month old NATO-led air campaign against his forces say they will not stop bombing until Colonel Qaddafi steps down, according to Reuters.

In Rome, eight Libyan officers, including five generals, appeared at an Italian government-arranged news conference, saying they were part of a group of up to 120 military officials and soldiers who defected from Mr. Qaddafi in recent days.

The defections come two months after that of Libyan foreign minister and former espionage chief Moussa Koussa and the resignation of senior diplomat Ali Abdussalm Treki.

In Rome, one of the defecting officers, who identified himself as General Oun Ali Oun, told reporters: "What is happening to our people has frightened us."

"There is a lot of killing, genocide ... violence against women. No wise, rational person with the minimum of dignity can do what we saw with our eyes and what he asked us to do," he said according to Reuters.

Libyan UN ambassador Abdurrahman Shalgam, who has also defected from Gaddafi, said all 120 of the military personnel were outside Libya now but he did not say where they were.

NATO warplanes have been raising the pace of their air strikes on Tripoli, with Mr. Qaddafi's Bab al-Aziziyah compound in the center of the city being hit repeatedly.

A video posted online showed hundreds of angry funeral mourners chanting slogans against Mr. Qaddafi, in what activists called proof that demonstrations were growing in the capital.

Colonel Qaddafi has retained control of the capital and the west of the country while the east is in the hand of protesters.

Protesters control the east of Libya around the city of Benghazi, Libya's third-biggest city Misrata, and a mountain range stretching from the town of Zintan, 150 kilometers (95 miles) south of Tripoli, towards the border with Tunisia.

Helped by NATO air support, the protesters have been able to repel attacks by pro-Qaddafi forces but in many places they are still under bombardment and cut off from supplies.

(Abeer Tayel, an editor at Al Arabiya, can be reached at: abeer.tayel@mbc.net)