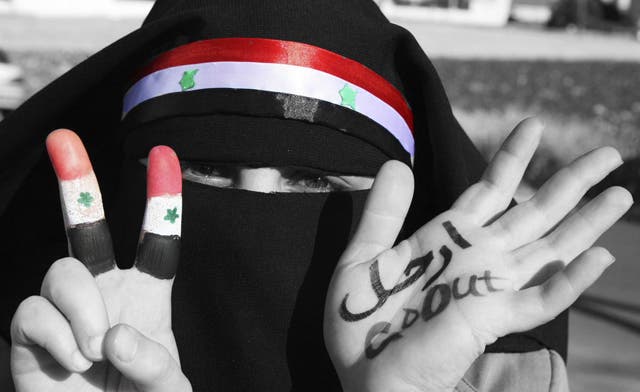 150 killed, dozens injured by Syrian security forces, activists say
At least 150 people have been killed by the Syrian security forces since Friday, Syrian activist Razan Zaytouna told Al Arabiya on Monday.

The Syrian Observatory for Human Rights had said on Sunday that at least 35 civilians and 10 soldiers and police have been killed since Saturday in a military operation in and around a northwestern Syrian town, according to Reuters.

Protests against President Bashar Al Assad have grown despite reform gestures dismissed by the opposition and a continuing crackdown that has killed at least 1,100 people since the uprising erupted two months ago.
Residents said the killings in northwestern Jisr Al Shughour began when snipers on the roof of the main post office fired at a funeral for six protesters killed during a demonstration on Friday.

Angry mourners set fire to the post office after the shooting, said one Jisr Al Shughour resident, a history teacher who gave his name only as Ahmed.

According to the official news agency, "armed terrorist groups" killed four police, attacked public buildings including the post office and "spread terror in the heart of citizens who called on the authorities to intervene forcefully to protect them."

Authorities have prevented most international media from operating in Syria, making it impossible to verify accounts of the violence.

In the eastern city of Deir Al Zor, the center of an oil producing area, residents said security forces killed four protesters after mourners set ablaze two buildings belonging to President Assad's Baath Party, which has ruled Syria since it seized power in 1963.

Residents said they saw two people with hunting rifles fire back at security forces.

Overnight, forces had fired at thousands of protesters in the city and wounded scores as they tried to reach a square to topple a statue of late President Hafez al-Assad, Mr. Bashar's father.

"The crowd reached President's Square when it was met by ... bullets from the security police and armored cars that had deployed there to prevent the 'sanam' (false deity) from being toppled," a witness told Reuters, referring to the 6-meter stone statue of the man who ruled the 23-million-people nation with an iron fist for 30 years.

Night-time demonstrations have been held daily across Syria to circumvent the heavy security presence, though protests reach a peak after Friday midday prayers.

The killings have been eroding support among the country's majority Sunni population for Mr. Assad, who is from the minority Alawite sect.

Human rights campaigners say security forces shot dead at least 70 protesters in the city of Hama on Friday.

But central neighborhoods in Damascus and most of Syria's second city Aleppo have remained largely quiet as authorities tighten security in the two cities and many wealthy business families worry about instability.

The crackdown has raised Western pressure on President Assad, 47, who has tried to strengthen his regional clout by reaffirming an alliance with Iran and backing militant groups, while responding to Western offers of better ties.

The official state news agency said the prime minister has ordered the formation of a committee to draft a law that would allow "patriotic political parties," but it did not say whether the proposed law would permit opposition to the government.

In the tribal region of Deir Al Zor, where most of Syria's 380,000 barrels per day of oil is produced, another resident said protesters were enraged over the killing of Mouath Al Rakkad, a 14-year-old boy who was shot dead on Friday during a demonstration against Assad's rule.

He said demonstrators had been trying for a week to reach the big Hafez Al Assad statue.

"All the other busts and statues of Hafez I know of had been toppled," said the resident, a doctor who practices in the city.

Human rights groups say security forces, troops and gunmen loyal to Mr. Assad have killed at least 1,100 people in attacks on protesters and in military assaults and sieges of cities to try to crush street demonstrations since they erupted in southern Syria in March.

Syrian authorities say "armed terrorist groups," backed by Islamists and foreign powers, are behind the killings, which have included over 120 soldiers and police.

In one of the bloodiest attacks on protesters, security forces killed at least 70 people in Hama on Friday, and there were reports that more bodies had been taken by security forces and dumped in a public park on Sunday, rights campaigners said.

"The protest was like a big party. Whole families were marching. Women were carrying flowers and chanting for liberty and to bring down the regime of thugs," said one witness, a veterinarian who lives in Hama.

The crackdown in Hama has particular resonance. Forces led by Hafez Al Assad's brother Rifaat killed between 10,000 and 30,000 people there when they put down an armed uprising by the Muslim Brotherhood in 1982.

Turkey, once a close ally of Assad, has warned him against "a repetition of Hama." The United States and the European Union have imposed direct sanctions on the Syrian president.

(Abeer Tayel, a senior editor at Al Arabiya English, can be reached at: abeer.tayel@mbc.net)