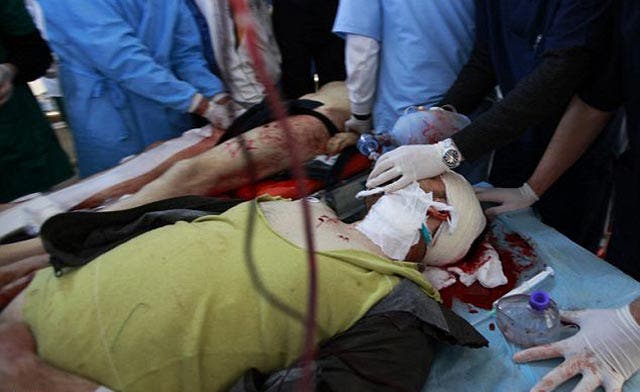 Cold-blooded murders by Qaddafi forces of everyday Libyans for disagreeing with regime
Hours after thousands packed Tripoli's Green Square cheering for Muammar Qaddafi, Mohammed said the still warm body of his nephew was dumped outside the family home with two bullets in his head.

Mohammed, who did not want to use his last name for fear of reprisal, said he is certain 30-year-old's Ahmed's fate was sealed while green flags were waving on the other side of the capital and as Colonel Qaddafi dished out threats against Europe, NATO and Libyan "traitors" on Friday.

Ahmed's execution, he said, was punishment for his family's refusal to take part in the rally, a show of strength by the Libyan leader amid a five-month-long uprising that has pushed the regime to the brink of collapse.

"Four or five days ago a member of one of Qaddafi's revolutionary committees approached my brother's family in Tripoli," the 50-something Mohammed said on Saturday, his voice ringing with anger and mourning.

"They told him: 'We have your son, he is being held at Abu Salim prison. If your family does not come out to demonstrate on Friday you will never see your son again'."

With an extended clan of around 50 adult males alone, securing the family's attendance would have helped Colonel Qaddafi reach his aim of putting a million people on the streets to undermine rebel morale.

But angry at the thought that Ahmed was already be dead and hearing that many neighbors had received similar threats, his family refused to go.

"My brother told them 'whatever happens is going to happen, we are not going to go out to demonstrate for Qaddafi'," Mohammed said, holding his head in his hands.

"We did not think it was possible that he was still alive, we thought the guy was just making threats."

Ahmed went missing in Tripoli a few days after the uprising against Colonel Qaddafi began in February, as Tripoli's youth burned images of the self-styled "leader of the revolution" and stormed a state-run television station.

When Colonel Qaddafi hit back and Ahmed disappeared, the family assumed he had been shot by soldiers, mercenaries or one of Colonel Qaddafi's feared security services.

They now believe he was arrested on February 22 and taken to the notorious Abu Salim prison with many others. Either way, the next time the family saw Ahmed was on the doorstep of their home on Saturday.

"The bullet wounds were fresh. He was shot this morning, even the blood was still warm," Mohammed said from the safety of Benghazi, after reaching his brother using clandestine communications earlier in the day.

Mohammed said he knows of at least two other families in their neighborhood of Tripoli who also received their sons' bodies on Saturday morning. Both had also refused to attend the rally.

It was not possible to fully corroborate Mohammed's account of events because reporting is severely restricted in areas under Colonel Qaddafi's control.

However, groups such as Amnesty International and Human Rights Watch have reported evidence of extrajudicial executions by government forces across the country.

Reports have also surfaced about such threats and executions inside Tripoli, but international human rights groups have no presence in the capital and have not been able to fully investigate.

A representative for the rebel National Transitional Council in London on June 26 claimed there were "confirmed reports" of 187 prisoners being killed at Abu Salim prison during the course of two days earlier last month.

Because of petrol shortages in Tripoli, Mohammed said relatives there planned to walk around two or three miles on Saturday to be able to bury Ahmed.

"There is nothing but air and God in Tripoli," he said. "You are either with Qaddafi or you starve."

"I just want the world to know how Qaddafi works," added Mohammed, explaining his reasons for speaking out. Despite the dangers "we are obliged to put this out in the open," he said.