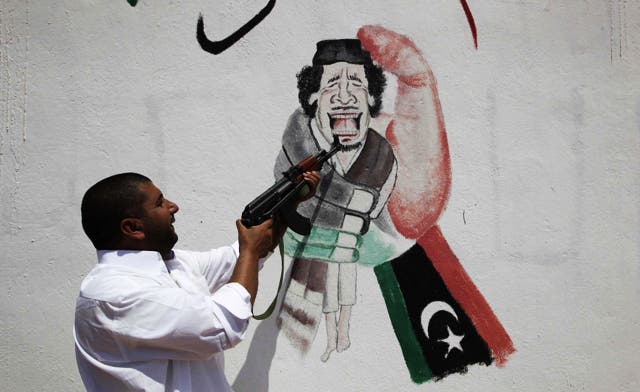 Post-Qaddafi Libya: Bitter pills will have to be swallowed. By James M. Dorsey
Even as fighting continues with no certainty that Col. Muammar Qaddafi will accept a proposal by the Libya Contact Group to end the crisis in his country, government experts in consultation with Libyan rebels are drafting plans for a post-Qaddafi era.

Few doubt that Mr. Qaddafi's days are numbered whether or not he accepts the plan adopted by the group, which is made up of more than 30 governments and international and regional organizations, including the United States, the European Union, the Arab League and NATO, that calls for a ceasefire and his easing out of power.

Nonetheless, the post-Qaddafi plan, in a bid to avoid the problems in Iraq that resulted from the disbanding of Saddam Hussein's military and as a further bone thrown to the Libyan leader, suggests keeping the Libyan leader's security forces intact.

In fact, the model developed by the experts from the United Nations, the United States, Europe, Canada and Turkey as representatives of the NATO-backed Libyan rebels' Transitional National Council (TNC) is largely based on the experience in Iraq where the disbanding of Mr. Hussein's military unleashed a wave of brutal violence.

Avoiding such violence is just one of host of immediate problems that Libyans and the international community will have to address once Mr. Qaddafi departs. They include restoring and maintaining law and order; securing basic services such as food, water and energy; resuming oil exports to ensure funding for the new government; and kick starting Libya's stagnating economy.

All of this has to happen in a country that lacks institutions as a result of Mr. Qaddafi's reliance on traditional tribal structures.

The need to rely on remnants of Mr. Qaddafi's regime is reinforced by the fact that the untrained and inexperienced rebel forces are unlikely to be able to maintain security on their own. Privately, Libyans in rebel-held territory concede that their most competent force consists of Islamists steeled by years of fighting in the 1990s against Mr. Qaddafi's regime.

Ensuring the integration of remnants of the old regime into a new Libya may also pay political dividends. It would serve as a reassurance for those in Mr. Qaddafi's camp concerned about their future in the wake of last month's arrest warrants on charges of war crimes by the International Criminal Court in The Hague against Mr. Qaddafi, his son, Saif al-Islam al-Qaddafi and Abdullah Senoussi, the head of Libyan intelligence.

Anticipating the need to maintain security, avoid violent revenge and retribution and ensure that a post-Qaddafi government gets off to a good start, the contact group is calling in its proposal for a United Nations force that would monitor the transition from Mr. Qaddafi's 41-year, iron-fisted rule to a more democratic order.

The force will have to oversee the integration of rag-tag rebels with a police force and parts of the Libyan military that like elsewhere in the Arab world is certain to encounter popular distrust because of their history as Mr. Qaddafi's henchmen and against whom they have fought for the past five months.

The Qaddafi loyalists, like security forces in post-revolution Egypt and Tunisia, are likely to be reluctant to engage in clashes with protesters and other groups because that would undermine their probable efforts to improve their tarnished image.

The rebels and their Transition National Council (TNC) may have moreover agreed to the integration but putting that into practice is likely to prove to a bitter pill to swallow.

Yet, the experience in Iraq demonstrates that the alternative is a wave of bloody violence will delay at a heavy cost bringing Libyans closer to their goal of greater political freedom and economic opportunity that they have been fighting so hard for.

(James M. Dorsey, formerly of The Wall Street Journal, is a senior fellow at the Nanyang Technological University's S. Rajaratnam School of International Studies and the author of the blog, The Turbulent World of Middle East Soccer. He can be reached via email at: questfze@gmail.com)