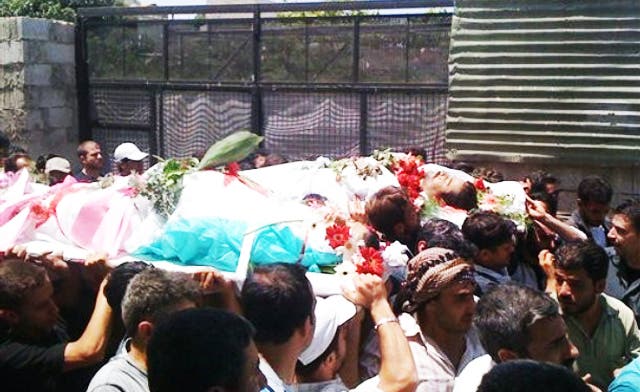 Syrian army kills 30 in Homs, deploys tanks in southern town. By Mustapha Ajbaili
Syrian security forces on Sunday have killed at least 30 people in the central city of Homs, Al Arabiya TV quoted the Syrian Observatory for Human Rights as saying.

Meanwhile, the army airdropped troops by helicopter and deployed tanks around a town near the border with Iraq on Sunday after thousands of pro-democracy protesters, buoyed up by defections among security forces, demonstrated against President Bashar Al Assad's regime, activists said.
Abdel Karim Rihawi, who heads the Syrian League for the Defence of Human Rights, earlier told AFP that soldiers had entered Homs, 160 kilometers north of the capital and penetrated Zabadani, 50 kilometers (30 miles) northwest of Damascus.

"Four tanks and a troop transport took up position in Dawar Al Khalidya" in Homsn, he said. "Residents organized a huge demonstration to protest against their presence."

President Assad's regime has deployed army troops across the country in an attempt to suppress protests trying to end his rule. Activists said divisions are growing within army ranks over the bloody response to demonstrations.
"The situation in Al Bukamal (near Iraq border) is explosive, so the army is preparing to intervene," the pro-government daily Al Watan said.

"The authorities fear an armed revolt in this border town where (insurgents) can easily find logistical and political support."

Military Intelligence agents in Al Bukamal on Saturday killed five protesters, including a 14-year-old boy, residents said.

However, the official SANA news agency spoke of "armed terrorist gangs who stormed a government building and seized the weapons stored there," adding that three security personnel were killed and two kidnapped in the attack.

Since the start of anti-regime protests in mid-March, Damascus has consistently blamed the violence wracking the country on foreign interference and "armed groups" seeking to "sow chaos."

Activists say that the protesters are peaceful and that the fierce government crackdown on dissent has left more than 1,400 civilians dead and thousands of others behind bars.

Al Bukamal is on the eastern-most edge of the province of Deir Al Zor where hundreds of thousands protested on Friday.

The center of Syria's 380,000 barrels per day of oil output, the region is still among the poorest in the country with little of the oil revenue invested in the area.

A water crisis in the last six years, which experts say is largely caused by mismanagement of resources and corruption, has also decimated agricultural production.

Authorities had forged alliances with several tribes in the region and allowed them to arm to counter the Kurdish minority living to the north, but those deals have broken down.

The official state news agency said "armed terrorist groups" killed three security personnel in Al Bukamal on Saturday.

In the resort town of Zabadani, on the foothills of the Anti-Lebanon Mountain range, security forces and army units in armored personnel carriers raided houses overnight on Sunday and arrested 70 people, residents said.

"They shoved them into buses. The arrests were arbitrary. Many did not have anything to do with demonstrations. A disabled man and his 15-year-old son were taken away," a doctor in Zabadai told Reuters by phone.

Syrian troops also arrested on Sunday the prominent writer Ali Abdallah, a fierce critic of the state's use of violence.

"Ten soldiers entered my father's house around 9:00 a.m. in the Damascus suburb of Qatana and took him. He just had heart surgery three weeks ago," Mr. Abdallah's son Mohammad told Reuters by phone from exile in Washington.

Mr. Abdallah, a 61-year-old secular thinker, was released in May after spending four years in prison because of his membership of the Damascus Declaration, a pro-democracy group of intellectuals and opposition figures, and his criticism of Assad's alliance with Iran's clerical rulers.

(Mustapha Ajbaili, Night Editor of Al Arabiya English, can be reached at: Mustapha.ajbaili@mbc.net)