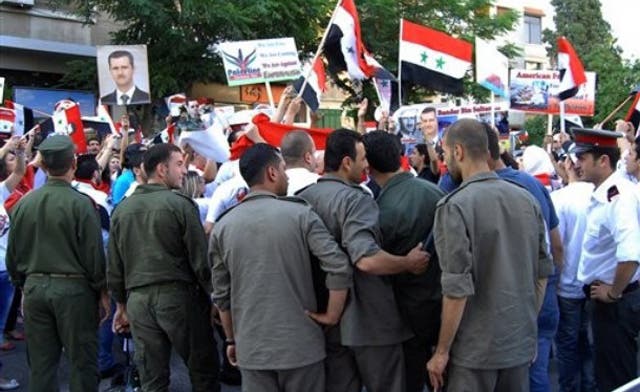 In major blow to Syria, Qatar closes embassy. By Mustapha Ajbaili
Qatar withdrew its ambassador from Syria and closed its embassy following attacks on the compound by militiamen loyal to President Bashar Al Assad, an official from the Qatari delegation told AFP on Monday.

Qatar became the first major Arab country to close its embassy in Damascus in what was widely seen as a major setback to Mr. Assad.
"The diplomats have left Syria and work has been suspended until further notice," the official said, declining to be identified.

He refused to specify the date of the ambassador's departure nor his reasons for leaving.

The embassy in the Abu Rummaneh neighborhood of Damascus closed last week when it was assaulted twice, they said.

Qatar had long enjoyed cordial relations with Damascus but recently Al Jazeera, the Doha-based pan-Arab satellite news channel, has come under strong criticism by the Syrian authorities for its coverage of the popular revolt against President Bashar Al Assad's regime that erupted in mid-March.

Damascus deems Al Jazeera to be exaggerating the protest movement.

Official Syrian media regularly accuse foreign news services of using fabricated images and of not verifying their sources in their coverage of the uprising.

(Mustapha Ajbaili, Night Editor of Al Arabiya English, can be reached at: Mustapha.ajbaili@mbc.net)