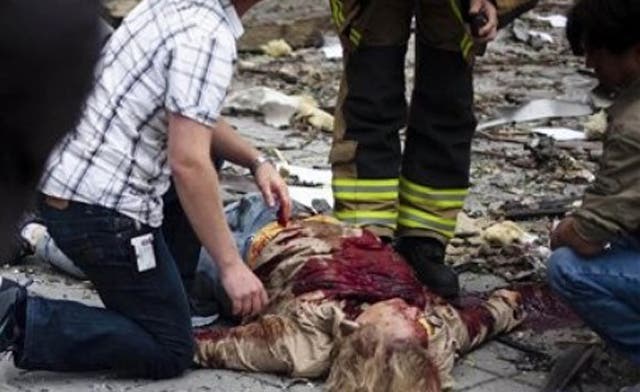 Game Changer: Norway's encounter with terror. By Bibhu Prasad Routray
The title of Karl Popper's famous book "Open Society and its Enemies," written during World War II, found an apt resonance in Norwegian capital Oslo on 22 July. The otherwise peaceful Scandinavian capital was shaken out of its calmness to the reality of a terror strike. By the time of writing of the article, seven people were dead and another 15 injured in the explosions.

It is not certain who carried out the explosion. It is also not certain who were the exact targets of the terror plot -- whether it was the Prime Minister (PM) Jens Stoltenberg, building housing a newspaper office or the oil ministry that suffered major damages.
The explosion was massive and could have been one or combination of several bombs. It happened between a 17-storey building housing the prime minister's office and the Oil Ministry office. People far away from Oslo heard the explosion.

Even as the country was still coming to terms with the explosion, another news of firing at a youth convention of the ruling Labor party in Utoyea, an island 50 kilometers away from Oslo by a person in a police officer's uniform had come in. Anti-terror squad had been dispatched to the location. Some casualties/ injuries appear to have occurred in that location as well. It is not clear whether these two incidents are related.

Norway, a country of five million people has played an important diplomatic role in the Middle East peace process since the 1993 Oslo Agreement, which brought the Israeli and Palestinian leaders face to face for the first time.

For a number of years, Norway also mediated between the Sri Lankan government and the Liberation Tigers of Tamil Eelam (LTTE), before Colombo accused the Norwegian mediators of being partial to the militants and ended their association with the peace process.

This prolonged participation in brokering peace deals appeared to have injected a false sense of safety and security among its citizens that their country would never be targeted by the terrorists.

For this reason, the terror attack of July 22 is a game changer for Norway and the Scandinavian countries.

These countries, brandishing themselves as open societies, have enjoyed unfettered freedom even as countries world wide shut themselves down and securitized themselves in response to prospects or reality of terror attacks. Norway however, continued to encourage the entry of thousands of refugees including many Islamists. Over time, however, Oslo has witnessed rising tensions between radical Muslims and other citizens.

The liberal Norwegians have increasingly voiced their concern in public over the level of anti-Western rhetoric being used by some Muslim radicals in mosques and in the Norwegian media. On part of the Muslims, Norway's so-called subservience to the whims of the United States is unacceptable. If these accumulated discontentment has facilitated the July 22 explosions is still unclear.

It's natural to wonder whether the Al Qaeda might have been involved in the explosion. If it indeed is, several past incidents did point at such a horrific culmination.

Back in 2003, the Al Qaeda for the first time threatened to carry out attack in Norway. Many Norwegians reacted with disbelief, speculating whether the AQ had mistaken Norway for neighboring Denmark, which at the time had sent troops to support the US invasion of Iraq.

In 2006, Norwegian embassies in the Middle East were attacked following Danish cartoons of Prophet Mohammed, which were published in one of the Norwegian newspapers. In Syria, angry demonstrators burnt down the Norwegian embassy. Offices of the Norwegian company Telenor came under attack in Pakistan. Pictures of the Norwegian flag being burned in protest were broadcast.

The third occasion came in 2007. The present chief of Al Qaeda, and then deputy to Osama Nin Laden, Ayman al-Zawahiri threatened Norway for its "participation in anti-Muslim wars."

The possibility that the Al Qaeda may indeed be planning to carry out an attack came in July 2010 when three men -- a Uighur from China, an Iraqi and an Uzbek -- were arrested on suspicion of preparing terrorist attacks. Two of these men were arrested in Oslo and one in Germany. At that time, Norway's security service chief Janne Kristiansen had indicated that this group of men had links with the Al Qaeda.

There are further possibilities of the July 22 explosion being the result of Norway's treatment of the Iraqi Kurdish Islamist Mulla Krekar. In July 2011, Norway brought terror charges against Najm al-Din Faraj Ahmad alias Mullah Krekar, the founder of the outlawed Kurdistan Islamic group of Ansar al-Islam after he threatened former Norwegian asylum minister Erna Solberg. In media interviews Krekar had said that if he is deported to Iraq and killed there, they would face the same fate.

Iraqi born Mulla Krekar had come to Norway as a refugee in the early 1990s and spent years secretly shuttling between Oslo and Kurdistan until his arrest in September 2002. Although terrorism charges were dropped in 2003, he has been officially declared a threat to national security and placed under house arrest awaiting deportation to Iraq. In 2005, Norway issued a deportation order for Mullah Krekar.

The verdict, however, was suspended for fear that the cleric may face execution or torture at home. Krekar had justified the 9/11 attacks saying that the Americans deserved them. The Ansar al-Islam is suspected of having carried out suicide bombings against coalition forces and Iraqi security forces in Iraq.

Among other reasons, why Norway could have been targeted is its engagement in Afghanistan where it has deployed 400 soldiers. Norway has been part of the International Security Assistance Force (ISAF) since late 2001. Norway's is a relatively small deployment, but enough to attract Al Qaeda's attention and wrath.

Oslo could have been targeted for the sheer reason of operational convenience. The Al Qaeda is seemingly desperate to carry out something big since the May 2 killing of its chief Osama Bin Laden and carrying out an attack in a less securitized society such as Norway would have been much easier.

Irrespective of these presently jumbled up assumptions, there is near certainty on the future in store for Norway. Life will never be the same for the Norwegians and their fellow Scandinavians. Norway and in any country in the region for that matter must come to terms with the painful reality that they can no longer remain immune to international terror attacks.

(Dr. Bibhu Prasad Routray is an independent analyst based in Singapore and has previously been Deputy Director, India's National Security Council Secretariat (NSCS). Currently, he is a Visiting Fellow at the Centre for Land Warfare Studies (CLAWS), New Delhi and a Fellow (Counter-Insurgency Studies) at the Takshashila Institution. He can be reached at bibhuroutray@gmail.com or on Twitter @BibhuRoutray)