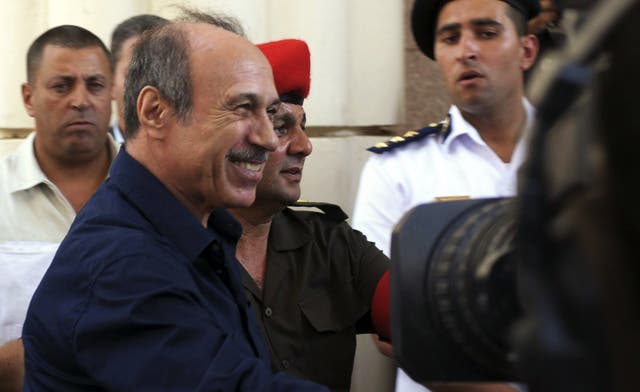 Egypt ex-security chief Habib Al Adli murder trial adjourned to August 14
The murder trial of Egypt's former interior minister Habib Al Adly and six of his deputies was adjourned on Thursday to August 14 to allow lawyers more time to review the evidence.

Adly, sentenced in a previous trial to 12 years for corruption, is accused of ordering police to fire on protesters during an 18-day revolt that started on January 25 and toppled the regime.
He is on trial with former president Hosni Mubarak, who made his first appearance in court on Wednesday in a stretcher along with his two sons, who are charged with corruption.

Adly and Mubarak, also charged with premeditated murder, could be executed if convicted.

Mr. Mubarak on Wednesday denied murder and graft charges after being wheeled into a cage on a stretcher the first time a former ruler faced his people in court since the Arab Spring erupted.

The ex-president, looking pale and dressed in white as he lay on the stretcher, pleaded not guilty of the premeditated murder of protesters who took to the streets to topple his regime in an uprising that erupted on January 25.

He and his sons Alaa and Gamal also denied corruption charges against them.

After a four-hour hearing – Mubarak's first public appearance since he resigned on February 11 – the trial of the father and sons was adjourned until August 15.

The trial of Mubarak, whose spectacular downfall sent shock waves across the Middle East and North Africa, was a key demand of the uprising.

The Muslim Brotherhood, which was banned under Mubarak and formed the Freedom and Justice Party after his ouster, hailed the trial as "a real victory for the will of the people."

The United States said it is confident the trial will be fair and transparent.

State Department deputy spokesman Mark Toner said this was important, and "we have confidence that they can do that."

In court, one civil society lawyer called for Field Marshal Hussein Tantawi, head of the ruling Supreme Council of the Armed Forces (SCAF) and Mubarak's long-time defence minister, to testify in the trial.

The trial is being held in an auditorium fitted with a large black cage to hold the defendants, including Adly on whom Mubarak relied to quell the revolt, and the six police chiefs.