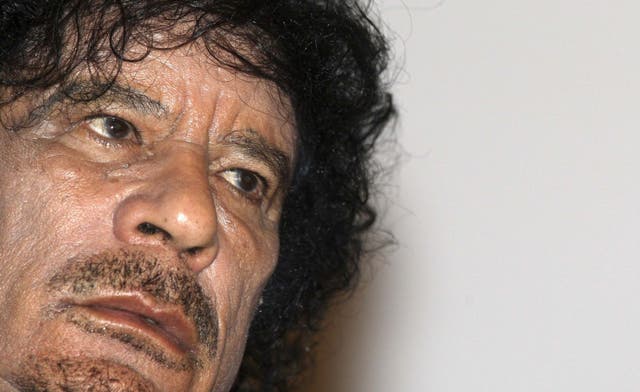 After 41 years in power, Qaddafi whereabouts a mystery as rebels close in
Muammar Qaddafi, who for decades enjoyed strutting before the public in his finery, has disappeared from the stage as rebels take over his former stronghold Tripoli.

The rebels want to get their hands on him, and so does the International Criminal Court. But they must find him first.

Qaddafi has not been seen in public since mid-June. His foes speculate he may not be in the Libyan capital or even in the country. As rebel fortunes have risen, his long televised speeches at boisterous public meetings have given way to scratchy telephone appeals from unknown hideouts.
Over his 41-year-rule, Qaddafi created a personality cult, with his image festooned in banners and posters all over Libya and his philosophy spelled out in a "Green Book." He presented himself as a father of the nation and, on the international stage, a warrior against colonialism and a campaigner first for pan-Arab and then pan-African interests.

He undoubtedly enjoyed a measure of popular support, so catching him and demonstrating to the people that his reign is well and truly over will be crucial for the next government.

French Foreign Minister Alain Juppe, whose government has been in the forefront of the international effort to oust Qaddafi, said on Monday that Paris did not know where he was. British Prime Minister David Cameron said London had no confirmation of his whereabouts either.

If he has fled Tripoli, one possible bolt-hole would be Sirte, his home region, where he could still find some support and sympathy.

At one point early in the uprising, Britain said he was thought to be on his way to Venezuela and the welcoming arms of his friend Hugo Chavez.

That proved to be false, but in the past week rumors that a Venezuelan plane was at a Libyan airport fueled renewed speculation that he might head for that exit door.

If he is still in Tripoli, it likely to be a bunker in a military compound. Two of his sons, Saif Al-Islam and Mohammed, have already been captured, but loyal troops were still putting up fierce resistance at several parts of the city on Monday.

Another son, Al-Mutassim, was reported by al-Arabiya TV to be in the Bab al-Azizya compound in Tripoli.

Qaddafi was last seen in public on June 12, meeting the president of the International Chess Federation, Russian Kirsan Ilyumzhinov, who said then that the leader told him he had no intention of leaving the country.

In the first few months of the uprising, the flamboyant 69-year-old made several spontaneous and often bizarre public appearances in Tripoli to rally support and spout defiance.

Once he turned out in a golf buggy, wearing brown Bedouin robes and holding aloft an umbrella. At other times he made speeches amidst the ruins of a palace bombed by the Americans in 1986, threatening to hunt down his opponents "alley by alley."
Invariably, he vowed to stay and fight to the death.

Recently though his bluster has been limited to audio recordings, often scratchy and hard to decipher. It was not clear where they were made, but in a Sunday night broadcast Qaddafi said he was still in Tripoli and would be "with you until the end."

Whatever his hiding place, Qaddafi must be contemplating his fate and considering those of other toppled strongmen.

Egypt's Hosni Mubarak is now on trial for ordering the killing of protestors in the popular revolt that ended his rule in February. Tunisia's Zine El Abidine Ben Ali, the first leader to fall in the Arab Spring, is in exile in Saudi Arabia but facing trial in absentia.

After a long manhunt, Saddam Hussein was ignominiously found hiding in a hole in the ground nine months after the 2003 US-led invasion of Iraq. After a trial, he was hanged and the photographs shown on television.
Still, an internationally supervised trial might be the best option for Qaddafi.

In 1989, Romania's Nicolae Ceausescu and his wife Elena were caught after trying to flee the capital by helicopter. They were executed by firing squad after a brief show trial.

Over the years dictators have found refuge in Panama (the Shah of Iran), Hawaii (the Philippines' Ferdinand Marcos), Saudi Arabia (Uganda's Idi Amin) and France (various). But there appears to be few volunteers to host Qaddafi.

South Africa, which led a failed African mediation effort, said on Monday it was not aiding Qaddafi's exit from Libya and knows that he will not seek asylum there.

Foreign Minister Maite Nkoana-Mashabane dismissed speculation that South Africa had sent aircraft to Libya.

"The South African government would like to refute and dispel the rumors that it has sent planes to Libya to fly individuals to some undisclosed locations or South Africa," she said.

Italian Foreign Minister Franco Frattini said that time had run out for negotiations over a possible exile for Qaddafi that he must face trial at the International Criminal Court in The Hague.

"It is still important to find Qaddafi, to put him on trial, which is what you saw with Saddam Hussein in Iraq, and in that way, it is a potentially very dangerous situation," said Swedish Prime Minister Fredrik Reinfeldt.