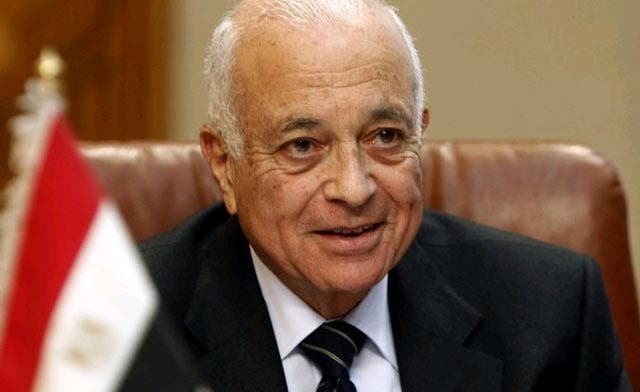 Opposition council to take Libya's seat at the Arab League
The Arab League gave its full backing to Libya's rebel National Transitional Council (NTC) as the legitimate representative of the Libyan people on Thursday and said it was time for Libya to take back its permanent seat on the League's council.
"We agreed that it is time for Libya to take back its legitimate seat and place at the Arab League. The NTC will be the legitimate representative of the Libyan state," the League's Secretary General Nabil Elaraby told reporters in Cairo.

The NTC's representative at the League, Abdelmoneim el-Houni, said Libya would resume its League membership at a meeting of Arab ministers on Saturday.

More than 40 countries have recognized NTC, set to take power and move to Tripoli after rebels forced veteran leader Muammar Qaddafi to abandon his headquarters in the capital.

The Arab League suspended Libya's membership after Qaddafi's forces launched a bloody crackdown to try to stop an uprising spreading in the east of the country in February.

The League then backed a no-fly zone over Libya patrolled by mostly western powers, a historic move given the bitter memory of the 2003 US-led invasion of Iraq.

Since then the League has only sent medical aid to Libya and stopped short of formal dealings with the rebel council.

Egypt, which had around 1.5 million migrant workers in Libya before the conflict erupted, has so far avoided any official mention of the council – in contrast to France, the United States and Britain, which threw their weight behind it and cut ties with Gaddafi early in the conflict.

The European Union said it was already planning for the post-Qaddafi administration of Libya following the rapid advance of rebel forces.

The NTC declared itself the sole legitimate representative of the Libyan people on March 5 and appointed Mahmoud Jibril on March 23 to form an interim government.

China has not formally recognized the NTC, but said on Wednesday it had "always attached significance to its important role."

Russian President Dmitry Medvedev said on Wednesday the Moscow might establish formal relations with the rebels if they were able to "unite the country for a new democratic start."

Medvedev warned starkly on Wednesday that it may well be premature for the rebels to be proclaiming victory or for other nations to be establishing formal ties with the NTC.