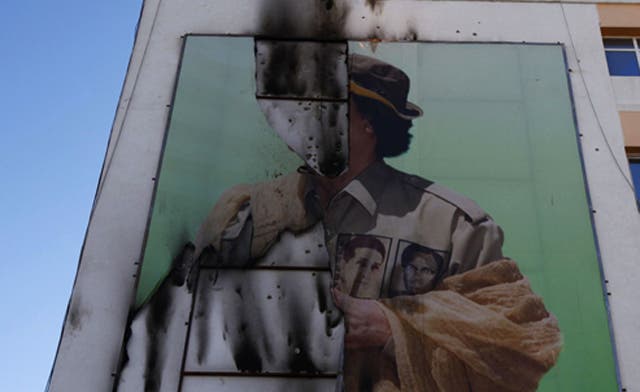 US urges Niger to detain Libyan officials in convoy, says Qaddafi 'on the run'
The US government on Tuesday urged Niger to detain senior officials from the Qaddafi government who it believes crossed into the country in a convoy from Libya, the US State Department said.

Niger officials informed the US ambassador that the convoy carried "a dozen or more" senior members of Qaddafi's government, but gave no indication that Qaddafi himself was among them, State Department spokesperson Victoria Nuland said.

"We have strongly urged the Nigeran officials to detain those members of the regime who may be subject to prosecution, to ensure that they confiscate any weapons that are found and to ensure that any state property of the government of Libya, money, jewels, etc., also be impounded so that it can be returned to the Libyan people," Nuland said.

She said the United States had also urged Niger to work with Libya's ruling interim council to ensure that its interests are served in bringing the convoy's passengers to justice.

"All of them would be subject to the UN travel ban which is why we're working closely with the government of Niger," Nuland said, adding that the two governments had had "a very good conversation about what needs to happen to them."

"Our understanding is that they are going to take appropriate measures so that they can take the steps that are necessary and to work in the future with the (interim council) on what is to be done with both the people and the property," she said.

The United States suspended all non-humanitarian assistance to Niger in 2009 after former president Mamadou Tandja changed the constitution to extend his rule, but resumed aid programs this year after Tandja was ousted by the military and replaced through elections.

Niger officials said Mansour Dhao, Qaddafi's personal security chief, crossed into Niger on Sunday and a US national security official said Washington believed the convoy also carried several other prominent Libyan passengers.

A second US official said that one of the convoys was of a "configuration" which suggested it was carrying high-ranking figures from Qaddafi's government.

However, this official said he had no information about Qaddafi himself traveling in the convoy or fleeing Libya, and Nuland said Niger had given no indication that any Qaddafi family members were among the passengers.

US Defense Secretary Leon Panetta said Qaddafi was "on the run" but that he had no precise information about his location. "I wish I knew," Panetta said.

The Pentagon has said previously it had no reason to believe Qaddafi had left Libya. Asked whether that assessment had changed, Panetta said only: "I don't have any information as to his location."

Military sources told Reuters that a convoy of between 200 and 250 vehicles had been escorted to the northern city of Agadez by Niger army personnel. US officials said Qaddafi's government had close ties to Niger-based Tuareg rebels, some of whom had gone to Libya to help defend Qaddafi.

A French military source told Reuters it was possible that Qaddafi and his son and would-be heir, Saif al-Islam, could join the convoy later and head for neighboring Burkina Faso.

Nuland said US diplomats had in recent days met formally with governments in all of Libya's neighbors to underscore the necessity that Qaddafi be brought to justice.

"We have been talking in recent days with all of the neighboring states in Libya about their UN Security Council obligations and those conversations will continue," she said.

However Burkina Faso quickly ruled out granting asylum to Qaddafi, saying it did not want to create problems for the west African country.

"We cannot grant him asylum because for the past three years we have not had good relations with him," said government spokesman Alain Traore. "We don't see why we would stick our neck out for him and create problems for ourselves."

Earlier Tuesday, Burkina Faso authorities said they knew nothing about the convoy that crossed into Niger on its way to this country.

Asked about reports of ongoing negotiations involving France on the fate of Qaddafi, Traore said Qaddafi's destination "is not an issue that concerns us."

"We are not expecting Qaddafi," he added, pointing to his country's "obligations toward the international community."