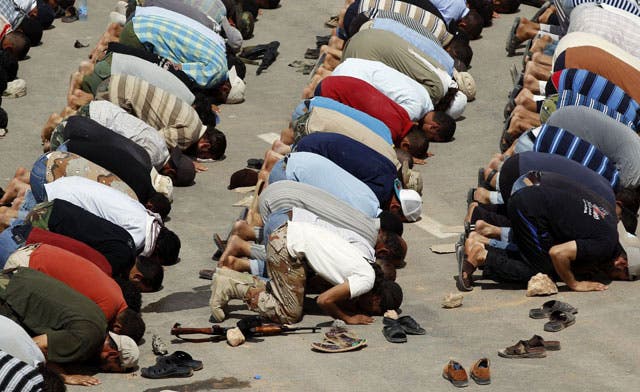 Moderation key word as Libya assures world it will not be center of extremist Islam
When it comes to Islam, moderation is the keyword in Libya, a country at pains assure the world that it will not become a centre of extremism now that anti-Islamist leader Muammar Qaddafi has gone.

On the eve of the 10th anniversary of the Sept. 11 attacks on New York by al-Qaeda, Libya's new de-facto president made a point of addressing the future of Islam in his country, which many abroad fear could take a militant turn.

"Ninety percent of us are moderate Muslims ... five percent are on the right and left sides," said Mustafa Abdel Jalil late on Saturday, in his first public appearance in Tripoli since it fell to anti-Qaddafi fighters on Aug. 23.

He urged unity and asked those with more marginal views on religion to restrict their sparring to debate.

Many abroad point to the surge of violent Islamists in Iraq after the U.S.-led invasion and fall of Saddam Hussein in 2003, but so far, Islam appears likely to have a more benign influence in Libya.

Long oppressed Islamic groups and institutions are quietly renewing themselves and swelling their ranks, but they say they have little political ambition for now, and are more interested in furthering national unity and Islamic values.

"We don't want power or position or politics," said Mohammed Hammadi, a heavily bearded Salafist, a sect whose adherents follow what they see as a purer form of Islam as practiced by the Prophet Mohammad in the seventh century.

"Look, if you're going to drink, drink at home, don't let it affect us," said Mustapha al-Kikili, another bearded Salafist standing outside a Tripoli mosque.
The long beards of the devout have proliferated in Libya after the fall of Qaddafi, who clamped down hard on Islamists, seeing them as a threat to his absolute rule. Many Islamists, or suspected Islamists, were imprisoned and executed.

Libya, with a population of six million, is almost completely Sunni Muslim and religiously conservative, but there are still varied views on Islam's role in post-Qaddafi Libya.

"A man who does not fear God has no place in Libya," said Nabeel Shoukry, an anti-Qaddafi fighter sitting at a coffee shop down the road from the Tripoli mosque.

Another men sat nearby countered.

"But there are people, revolutionaries who stood with us, who do not pray," said sweet shop owner Nader al-Thayyab.

A third man butted in.

"Libya is 100 percent Muslim, but there are three levels. A small level that is devout, a second that just follow the general laws and a third who don't pray, the technocrats, and are Muslim only in name. All have a role in the new Libya," said unemployed Mohammed al-Sagheer.

Nader Omrani, who heads the Tripoli body that oversees the city's Islamic affairs and its mosques, said Western fears of extremism taking root in Libya were unfounded.

"That's a false idea. We've had six months of revolution and we haven't seen any evidence of this," he said.

Officials in the United States have said they see "flickers" of al-Qaeda in the anti-Qaddafi ranks, but there has been little sign of overt Islamic militancy on the ground.

Omrani and his counterpart in Libya's second city of Benghazi say they hope to open more Islamic colleges and promote Islamic values, moves they say will stop deviant extremist ideas taking hold.
Religious observation would be up to the individual, and women's rights would be respected, he said.

"The religious bodies will encourage people to follow Islamic rules, but we won't force them," he said, adding that it was too soon to think about Islamic political parties.

"Maybe the Islamic front will have political ambitions. But what all Libyans agree on is that it's their choice. An Islamic political presence is still a distant prospect," he said.


Political ambitions
Libya's new interim leaders, the National Transitional Council, say they will hold elections and build a democratic society, which though based on Islamic law, or sharia, will respect the religious beliefs of others.

On Sept 13, Jalil used his first public Tripoli speech to call for religious moderation and the rule of law.

"We seek a state of law, prosperity and one where sharia is the main source for legislation, and this requires many things and conditions," he said, adding that "extremist ideology" would not be tolerated.

The exact place of sharia in the legal system in practice will only be settled once a new constitution is written by a constituent assembly and approved by a referendum, steps that are many months away.

Several other Arab states' laws are technically based on sharia, but the extent to which it is applied varies widely.

One Islamist who does have political ambitions is Alamin Belhaj, a member of the NTC and a senior member of Libya's Muslim Brotherhood, an Islamist group inspired by the powerful Egyptian group of the same name.

"Of course I've read a lot about the concerns of the West, but I can assure you that the Islamists in Libya, mostly or 100 percent are moderate," he said.

"Our belief is in a democratic state, in all the democratic mechanisms. We need to base our democracy on sharia," he added.
Libya's Brotherhood has fewer than 1,000 members because under Qaddafi recruitment was secretive and restricted to elites, Belhaj said. However, membership has doubled in size since the February revolt against Qaddafi's rule, he added.

Like Omrani, he also said it was too soon to think about an Islamist political party, expecting the Brotherhood instead to initially take a nationalist stance to foster unity after six months of war and division.

Alamin pointed to one other Islamist group he said had political ambitions, the Libyan Islamic Fighting Group (LIFG), a now defunct organization that waged a failed insurgency against Qaddafi in the 1990s and whose leaders took refuge in Afghanistan. Its leader Abdel Hakim Belhadj is now head of Tripoli's new military council. Alamin and Abdel Hakim are not related.

The group has recently changed its name to the Peaceful Change Movement, while Belhadj −who once spent time with al Qaeda jihadists in Afghanistan −has renounced religious militancy, said Alamin, who knows Belhadj well.

Western uncertainties about Libyan jihadists centre partly on the LIFG's record and partly on a lack of information about the current activities, and views, of scores of young men who went to fight U.S. troops in Iraq in the mid-2000s and who returned and dropped out of sight.

Some LIFG members in exile are believed by Western officials to have helped a number of young men in the Arab diaspora to travel to Iraq to fight.

As many as several dozen Libyans have joined al-Qaeda's Algerian-based north African offshoot in recent years, counter-terrorism officials say. But when al Qaeda's central leadership in Pakistan announced a merger with the LIFG in late 2007, the Libyan group rejected the move and embarked on a reconciliation process with the Libyan government which ended with the group disbanding itself in mid-2009.

Belhaddj's group was not immediately available for comment, but earlier this month he told a French newspaper:

"There is nothing to fear, we are not al-Qaeda, I have never been in it, I can say that with complete tranquility."