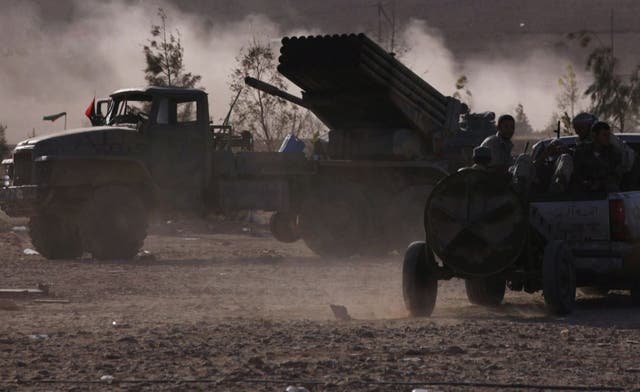 NATO extends Libya air strike mission for another 90 days, says diplomat
NATO has agreed to a 90 day extension of its air strike mission in Libya, an alliance diplomat said after a meeting of ambassadors of the 28 NATO states in Brussels.

"Operation Unified Protector was just extended for 90 days," the diplomat said on condition of anonymity after the meeting.

A further prolonged operation will mark a second extension to the NATO air and sea campaign, which begun on Mar. 31 in an effort to crack down on now-fallen Libyan leader Muammar Qaddafi and his armed loyalists.
Now, as the country's new rulers have taken charge of most parts of the country, including the capital and a few of the remaining Qaddafi bastions of support, a NATO presence will assumingly support their mission to dislodge Qaddafi loyalists that are still holding out in several towns.

On Tuesday, NATO Secretary-General Anders Fogh Rasmussen had said at a "Friends of Libya" meeting at the U.N. headquarters that "the days of the Qaddafi regime in Libya are clearly numbered."

"The recent positive developments in the country are irreversible," he added, referring to the National Transitional Council's recent progression in the country which caused Qaddafi and his family members to flee from Tripoli last month.

Rasmussen also told the high-level meeting that NATO was committed to continuing its mission in Libya for as long as threats against civilians existed, but made it clear that the alliance was determined to end the operation as soon as conditions allowed, RTT news reported.