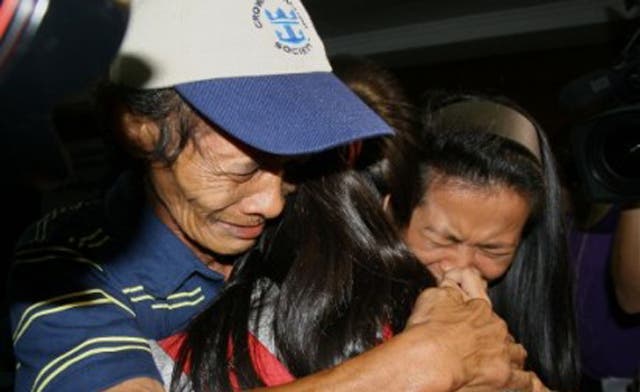 Filipina maids speak out on fleeing Qaddafi family barefoot as rebels took over Tripoli
Two Filipina maids who were trapped working for a nephew of deposed Libyan leader Muammar Qaddafi plotted their escape in whispers from a toilet, and eventually fled barefoot, one of them said Sunday.

The two maids, Diana Jill Rivera and Mary Ann Ducos, returned to the Philippines on Saturday after an ordeal in which they said they had been underpaid by their employer and their repeated appeals to quit were denied.

"We really wanted to leave but he did not want to let us go. He wanted us to finish our two-year contact," Ducos, 29, told AFP by telephone a day after returning to Manila.

The two had been working in a house on the Libyan capital of Tripoli owned by a Qaddafi nephew they identified as Sharif Tahal for a year but had asked to leave as the insurgency against the strongman and his family spread.

"He was OK, he did not physically mistreat us," Ducos said of their employer. But she said that when the two asked to go home, he refused to let them out of the house.

Ducos said they felt too scared to go against his wishes, and were intimidated by heading out alone on to the chaotic streets of Tripoli.

Even after the nephew left the house towards the end of the Muslim holy month of Ramadan apparently to escape the rebels, he left his adult daughters to watch over them to make sure they did not flee, said Ducos.

"They kept on saying there was nothing to worry about, that Libya was OK. But we did not get paid for six months," Ducos said.

Even before the unrest broke out, their employer had paid them only $200 a month, half the $400 they had been promised in their contracts.

Due to not being paid and fears of getting caught in the unrest, the two secretly plotted to leave.

Ducos said they were able to contact the Philippine labor attaché in Libya, using a mobile phone to secretly arrange their escape.

"We had to whisper on the cellphone while hiding in the toilet so our employers could not hear us," Ducos said.

With only the clothes on their backs and too rushed to even put on shoes, the two women fled the house on Monday to a waiting Philippine embassy car, which sped them away.

They originally planned to flee on Thursday, but four days earlier a group of fighters from the Libyan National Transitional Council, which overthrew Qaddafi, forced their way into the house.

The fighters did not harm the maids or even the nephew's female relatives, but they took money, jewellery and cars, and frightened the maids, forcing them to move up their escape plan to the day after the raid.

Despite their ordeal, Ducos said they felt no ill-will towards their employer and his family.

"We were afraid at the time but now, we are no longer angry at them. We even pray for them," said Ducos, who, like the majority of Filipinos, is Catholic.

Rivera, 30, and a mother of a 6-year-old boy, declined to be interviewed, saying she was exhausted.

The two women were originally among about 30,000 Filipinos working in Libya, but most fled after the unrest broke out, leaving only about 1,600 still in that country, government officials said.

About nine million Filipinos work around the world, earning more money in a wide range of skilled and unskilled sectors than they could in their impoverished homeland.

Two other maids working for another Qaddafi relative had initially said they also wanted to leave but later changed their minds because of a lack of work at home, according to Susan Ople, head of a labor group representing overseas workers.

"They say they are safe. The option to help them out will always be there in case they have a change of mind," Ople said.

Meanwhile, Ducos and Rivera have been promised new jobs in a hotel in the central Philippine city of Cebu, according to Ople.