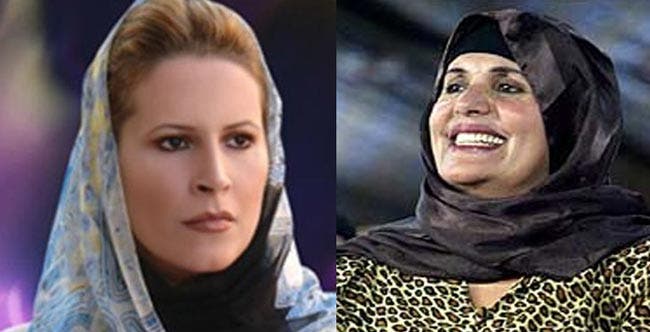 Egyptian sources deny Algerian reports that Qaddafi's relatives are now in Egypt
Egyptian security sources denied Monday reports that relatives of Muammar Qaddafi who had crossed into Algeria after the fall of Tripoli last month have flown into Egypt, Al Aram website news reported.

Earlier, Algerian daily el-Khabar, which is close to the government, reported that eight of Qaddafi's relatives, possibly including his daughter Aisha, who had crossed into the country on August 29 boarded an Egypt Air plane to Algiers' Houari Boumediene Airport on Saturday evening.

The report came a day after the Algerian government criticized the release of an audio recording by Aisha.
Algeria's foreign minister, Mourad Medelci, had denounced as "unacceptable" an audio recording by Qaddafi's daughter criticizing Libya's National Transitional Council (NTC). Medelci, who was attending the U.N. General Assembly in New York, pledged to "take measures" against Qaddafi's relatives.

Neither Algerian nor Egyptian officials have confirmed the reports.

In her first public remarks since the fall of Tripoli a month ago, Aisha Qaddafi accused Libya's new leaders of being traitors, noting that some of them were members of her father's regime before defecting in the civil war.

"Those who have betrayed the pledge they offered [to Qaddafi], how will they not betray you?" she said in a warning to Libyans.

"I assure you, he is fine, a believer in God, in good spirits, is carrying his gun and is fighting side by side with the warriors," she said.

The prerecorded four-minute message was broadcast Friday on the Syrian-based al-Rai TV, which has become Qaddafi's main mouthpiece. The elder Qaddafi, his chief spokesman, and his son and one-time heir apparent, Seif al-Islam, have also released statements through the channel since the fall of Tripoli.

The Algerian Health Ministry reported that Aisha gave birth to a girl on Aug. 30 as she was fleeing across the border. She is reported to have three older children, including a daughter who is said to have died in a NATO airstrike in April that killed one of her brothers and two other Qaddafi grandchildren.