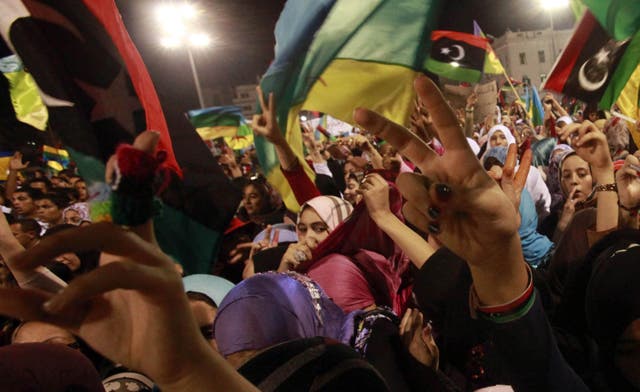 Libya's Berbers demand post-revolution dues
"Free Men" in Libya for 10,000 years but not for the past four decades under Muammar Qaddafi, the Amazighs − or Berbers − are rallying to seek recognition of their language and other rights, thanks to the country's revolution.

During the 41 years of Qaddafi hardline rule, the Amazighs − whose name means "free men" − were banned from publicly speaking, writing or printing anything in their own tongue, tamazight.

Earlier this week, the Berbers who make up some 10 percent of Libya's six million people, organized the "First Libyan Amazigh forum" under the slogan: "Officialize the Amazigh language and support national unity."
The unprecedented conference, opened on Monday, started with the new nation anthem, sung in Arabic and tamazight.

"We do not believe in political parties founded on different (identities) from Amazighs but want to tell the transitional government and the government that follows that the Amazighs are an integral part of political life," said Fathi Abu Zakhar, chairman of the preparatory committee.

"We want tamazight inscribed as a right in the constitution," he told dozens of participants at the conference.

The Berbers were present in the north African country before the Arab conquest in the seventh century and were noted for their military resistance to the Italian occupation in the 20th century.

In an overall minority, they form a majority in the Nefusa mountains in the northwest, in Zuwarah region 120 kilometers (75 miles) west of the capital Tripoli and in Ghadamis province on the frontier with Algeria.)

Active since the February start of the revolt against Qaddafi, the Berbers worked with the Arabs to topple the regime. They hope now to benefit and take their place in Libya's political and cultural life.

They also want their claims to be more widely known through public demonstrations.

On Monday, thousands of people took part in a festival of Berber music in Tripoli, making the Libyan capital echo with long-banned lyrics and music and raising the yellow, blue and green Berber flag.

Interim justice minister, Mohamed al-Alagi, from the National Transitional Council, visited the festival, draped in an Amazigh flag, to declare himself "very happy at this major event."

"I am Libyan, therefore I am Amazigh, for this country was originally Berber," Aisha Madi, a Berber militant, told AFP in Martyrs Square, the former Green Square emblematic of the Qaddafi regime.

"We have come to say we are here with all Libyans − Amazighs and Arabs, we are brothers," said another Amazigh, Said Khalifa.

"No one can steal this victory, for which our sons have spilled their blood," he added, referring to the Amazigh brigade troops fighting Qaddafi.