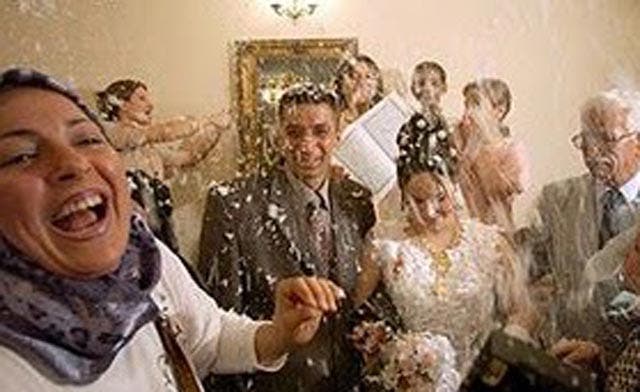 Rising gold prices sink Middle East marriage hopefuls
Faced with sky-high gold prices, groom-to-be Mustafa said he considered not saving for a year just to buy jewellery for his fiancée Sura, but quipped ruefully: "I don't think that is allowed in Iraq!"

Mustafa Kadhim's dilemma is one faced by families across the Arab world. As prices for the precious metal have risen dramatically in recent months, the long-held tradition of buying gold to mark a marriage has become an increasingly expensive one.

Kadhim has already agreed to buy five million Iraqi dinars ($4,300) worth, but a recent trip to the famed gold souk, or market, in the north Baghdad neighborhood of Kadhimiyah brought home his powerlessness in the face of global markets.
"I was shocked and bitter," said the 23-year-old Baghdad resident who makes $700 a month working in construction.

"I am really worried about the prices − everything is getting more expensive, including gold."

But, he added, "buying gold is a tradition, everyone should do it."

The price of gold rose on September 6 to an all-time high of $1,921.15 per ounce, a 35 percent increase since the start of the year.

It has since fallen somewhat, but remains high enough to generate frustration in the region where the idea of a groom not gifting gold to his bride during a wedding is unheard of.

"We have a saying that we believe: beauty and savings," said Umm Salam, or "mother of Salam," whose dentist son is to be married in six months. "Gold makes the bride beautiful, and it is a source of savings if there is a crisis in the future."

Her son, Salam Hamad, paid six million Iraqi dinars ($5,100) to buy 85 grams of gold for his fiancée at the Kadhimiyah market.

"Nothing is too expensive for that woman − I would sell my eyes for her," Hamad, 25, exclaimed of his wife-to-be after purchasing the jewellery.

Iraqis are not the only ones faced with the difficulties caused by higher gold prices: the Middle East is one of the biggest consumers of gold in the world, with a particularly high proportion of the precious metal being bought as jewellery, according to the World Gold Council.

"I have been planning to get married for a few years, but because of high prices, particularly gold, I only managed to get engaged last month," said Alaa John, a Jordanian graphic designer.

"Customs, habits and traditions control us in Jordan. Gold is key to getting married," the 30-year-old said, adding that he and his fiancée eventually agreed to buy "only" $2,500 worth of 21-carat gold jewellery.

In Oman, rising prices have forced families to bend the tradition that only the groom's family pays for the gold.

"The parents of the bride must now put their hands in their pockets, with the rising price of gold," said Khamis al-Salehi, who brought his family to the gold market in Suwaiq, a town 150 kilometers (90 miles) west of Muscat, to prepare for his daughter's wedding.

The frustration with rising prices is not limited to customers.

Sales in the traditional gold souks in Lebanon's second-largest city of Tripoli in the north have dropped 90 percent from 2007, and have halved compared to last summer, said jeweller Marwan Ibrahim.

"The wedding season this summer has been disastrous," he said. "There is close to no market for the items considered traditional wedding gifts."

"We used to sell 24 carat rings of around 100 grams like hotcakes. Today that same price would buy you 10 grams, so people are going for the cheapest possible option − fewer carats and lighter rings − of course."

In Saudi Arabia, one of the region's richest countries, demand for wedding jewellery has dropped by 60 percent as prices have risen, said Ali Baterfi, who owns the oldest such shop in the Red Sea city of Jeddah.

To adapt to the new situation, he said, "jewellers have halved the weight of their items while keeping the style."

Some betrothed couples in the region have begun to rebel against the tradition, if only to save money.

Hala, a 26-year-old Syrian whose purchasing power has shrunk as her country has been rocked by six months of anti-government protests, has resigned to buying a silver wedding ring.

"It is cheaper, and it shines like white gold," she said.

In Algeria, families who cannot afford to buy gold for a wedding resort to wearing either gold-plated jewellery, or borrowing used jewellery from relatives.

Malika, who works in a state company, used the latter practice during her wedding − her husband "offered" her the jewellery of her sister-in-law. It was returned after the wedding.

Lebanese schoolteacher Deema Tabet said she and her fiance opted against buying jewellery, and instead invested in an apartment.

"We kept putting off our engagement because everything was so expensive, including the rings," the 26-year-old said. "We decided not to listen to our families. I'm now wearing a nice faux bijoux that cost us $30 instead of $600 and we're getting married next summer."
I have been planning to get married for a few years, but because of high prices, particularly gold, I only managed to get engaged last month

Alaa John, a Jordanian graphic designer