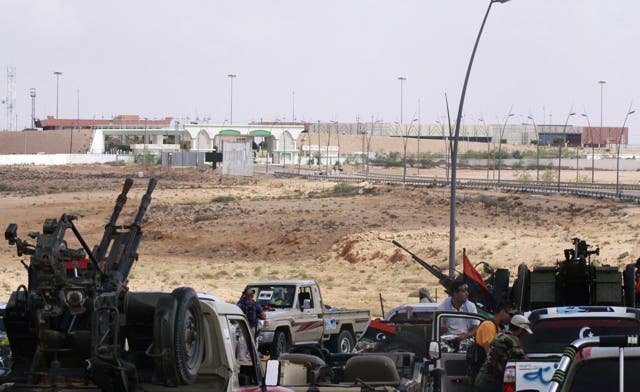 Sirte airport falls to rebel forces; another Qaddafi son wanted by Interpol
Libya's interim government on Thursday captured the airport in Muammar Qaddafi's hometown of Sirte, one of two main remaining bastions of support for the fallen leader as the Interpol issued an arrest notice for Qaddafi's son Saadi.

The National Transitional Council fighters had pitched battles with Qaddafi loyalists in Sirte with the two sides shelling each other and trading heavy machinegun fire.

Journalists at the scene reported that the Sirte airport was captured from Qaddafi loyalists.

"It is becoming a day-to-day fight. One day we are winning, the next day they are winning," said one commander who asked not to be identified, even as NATO warplanes flew overhead, AFP reported.
The commander said the latest fighting in Sirte was the fiercest yet since NTC forces launched their assault on the Mediterranean city, 360 kilometers (225 miles) east of Tripoli, on Sept. 15.

"They (Qaddafi loyalists) have lost everything. This is their last battle and so they are fighting fiercely. Our troops are taking a heavy beating at the moment. Today we retreated three kilometers," he told AFP.

Meanwhile, world police body Interpol issued an arrest notice for Qaddafi's son Saadi, who is currently living under house arrest in Niger, for alleged crimes while head of Libya's football federation.

Interpol has already issued red notices for Qaddafi and his son Seif al-Islam based on a request by the International Criminal Court and both men have been charged with crimes against humanity.

Niger's Prime Minister Brigi Rafini, meanwhile, said on a visit to France that his country has no plans to send Saadi home to face justice.

Qaddafi's whereabouts remain unknown, although Libya's new interim rulers sad on Wednesday they believe he may be hiding in the southern desert under the protection of ethnic Tuareg fighters.
Former PM on hunger strike
Libya had issued a summons for Qaddafi's former Prime Minister Baghdadi al-Mahmoudi on Wednesday, who fled the country for neighboring Tunisia, the interim justice minister said.

But on Thursday al-Mahmoudi's lawyer said that he had started a hunger strike in a prison in Tunisa to protest a request for his extradition from Libya's new rulers.

Tunisian prosecutors say they have received the request from the National Transitional Council (NTC) and are therefore keeping him in prison despite him winning an appeal against a 6-month jail sentence for crossing into Tunisia illegally, AFP reported.
U.N. Human Rights Council
The U.N. Human Rights Council on Thursday adopted a resolution calling for the lifting of Libya's suspension from the rights body.

The Human Rights Council "recommends that the General Assembly lift the suspension of the rights of membership of Libya in the Human Rights Council at its current session," the resolution said.

In February, the same body decided by consensus to ask the General Assembly in New York to suspend Libya's membership in the Council, citing gross human rights violations by Muammar Qaddafi's forces and rebels.

It will now be up to the General Assembly to heed the Council's advice, as it did in March.

Thursday's resolution said that the Council "welcomes the commitments made by Libya to uphold its obligations under international human rights law, to promote and protect human rights, democracy and the rule of law."

The resolution was sponsored by a large number of countries, including France and Britain, and a large number of Arab states.